There is little debate that social proof enhances any business's digital marketing strategy in 2023. Still, it's essential to conduct research and studies that prove its importance in the form of social proof statistics.
DataPins is a Local SEO & Social Proof tool for local businesses. The tool helps SMBs increase their Google rankings for multiple cities, improve their online reputation and boost conversion rates. 
Below, DataPins showcases social proof statistics from around the web, including several revealing findings from an independent marketing study using DataPins.
What is Social Proof?
Social proof is tangible evidence that a business provided goods or services to a satisfied customer. Verified reviews, geo-tagged images, and credible award badges are all examples of marketing social proof.
Social Proof Examples
Various things fall under social proof in a digital marketing context. The key is credibility and verification, whether it's a customer review, an award badge, or a geotagged photo of your company providing services. DataPins focuses on social proof that users can verify with a single look.
Customer Reviews
Most websites have a testimonials or reviews section. However, the feedback only qualifies as social proof if it comes from a verifiable source. For example, a screenshot of a customer review is not social proof because the web admin can manipulate the photo to serve an agenda.
Consider using a plugin like DataPins, which inserts a reviews slider onto your website. The slider plugin pulls Google and Facebook reviews via API so that users can see genuine reviews from top platforms and click them.

Award Badges
If you receive an award, the platform should provide a custom badge that you can upload onto your website's homepage within its HTML. In addition, the nominator should send you a transparent image file, usually in SVG format. Ask your web developer to insert the image onto your site.
Awards can come from a variety of sources. However, the best social proof comes from reputable institutions within your industry or region. For example, a roofing company in Denver, CO, should showcase awards from roofing-related institutions or regional and local organizations.

GeoTagged Photos (Pins)
The SEO industry disagrees on the value of geotagged photos as a ranking factor. Our research found that geotagged photos of themselves provide marginal SEO value if any. However, DataPins software combines geotagged photos with mini-maps, schema markup, and geo-coordinates.
We call this collection of data a pin. The good news is that the software tool collects this data and inserts it into one pin for each job you perform. The software does all the work, and all you need is the DataPins plugin. Pins increase local SEO rankings and boost conversion rates significantly.
Social Proof Statistics
1) 72% of consumers will only purchase after reading a favorable review.
Source: Search Engine Watch
2) 93% of consumers complete a purchase after researching a service or product via mobile.
Source: Think With Google
3) On-site reviews or testimonials increase conversions by 34%.
Source: ImpactBND
4) 89% of consumers say they are likely to use a business that responds to all reviews.
Source: BrightLocal
5) 57% of consumers will only use services with a minimum 4-star aggregate review rating.
Source: Hubspot
6) Nearly 87% of purchase decisions start with online research.
Source: ConversionXL
7) A typical consumer reads ten online reviews before purchasing.
Source: Hubspot
8) 200+ Schema pins increase impressions for a typical contractor website by 169.2%
Source: DataPins
9) Consistent social proof can increase revenue by 62% per customer.
Source: BigCommerce
10) 85% of consumers distrust reviews older than three months.
Source: BrightLocal
11) After reading its reviews, half of all consumers navigate to a company's website.
Source: Hubspot
12) Consumers will spend 31% more on businesses with favorable reviews.
Source: Invesp
13) Customers trust reviews 12x more than descriptions or sales copy.
Source: Econsultancy
14) 66% of consumers say they are more likely to purchase after viewing a video testimonial.
Source: Wyzowl
15) Articles with relevant images receive 94% views.
Source: Jeff Bullas
16) Photos can increase content recollection by 65%.
Source: MGD Advertising
17) Nearly 50% of consumers find website trust badges reassuring regarding trust and security.
Source: Yieldify
18) Website images with human beings can increase conversion rates by 48%.
Source: VWO
19) 97% of consumers in the B2B space consider testimonials or peer recommendations the most reliable content type.
Source: Demand Gen Report via This Moment
20) Testimonials produce an 89% content effectiveness rating, the highest of any content marketing tactic.
Source: Social Fresh
21) 5-star aggregate review ratings for GMB listings increased CTR by 28%.
Source: Bright Local
Independent Marketing Study from DataPins
DataPins is a unique tool in that it produces multiple types of social proof for a website. First, it showcases reviews from various platforms through an on-site plugin. The plugin pulls API from Google and Facebook to deliver genuine reviews from trusted outlets.
In addition, DataPins produces schema pins that prove jobs, locations, and services provided. Schema pins contain mini-maps, unique photos and captions, and geo-coordinates that verify the location. Let's look at some in-house statistics based on our DataPins results.
22) A roofing company that installed DataPins on their website increased organic traffic by 660% and top 20 keywords by 118%.
23) A water heater repair company receives an average of 1,100 monthly clicks from Google organic search alone with DataPins.
24) Websites with multiple pages of pins averaged 80.9% more monthly Google clicks than websites with only a single pins page.
25) DataPins users that utilize automated review requests increase frequency by over 94%.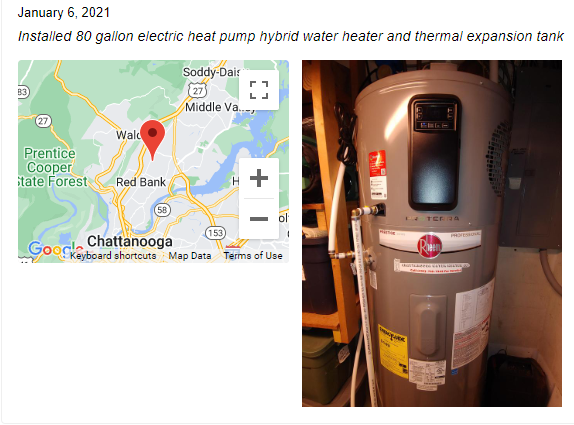 What Social Proof Statistics Tell Us
Statistics are just numbers, but they are very informative. For example, websites that showcase social proof generate more clicks, visitors, and conversions than websites without social evidence. User-generated content describing a business increases online success for that company.
After reviewing these social proof statistics, consider investing in it for your website. The #1 social proof tool on the market is DataPins which automatically integrates reviews and schema pins onto your website.