The most effective way to generate reviews in 2023 is through SMS/text review requests. DataPins reputation management software allows contractors to text review requests (with links to your review form) to recent customers. Studies show that SMS review requests can increase responses by up to 150%. Contractors that accumulate positive reviews on their Google My Business and Facebook listings are more likely to succeed online.
Not only do reviews increase conversion rates, but they also contribute to SEO through social and branded signaling that boosts website credibility. While email requests are also a DataPins feature, SMS requests have proven to be the most effective way to reach customers.
How Do SMS Text Requests Work?
After you service a client, your DataPins app will automatically text them a link to your review form. You should mention to the client that they'll be receiving this request via text so that they are ready to leave feedback upon receiving it. Studies show that asking for a review in person is an effective tactic, but only if you make the review process as simple and seamless as possible.
In other words, most satisfied clients are willing to leave a review but oftentimes find that it's too time-consuming or difficult to locate the review form. Text review requests solve both problems at once.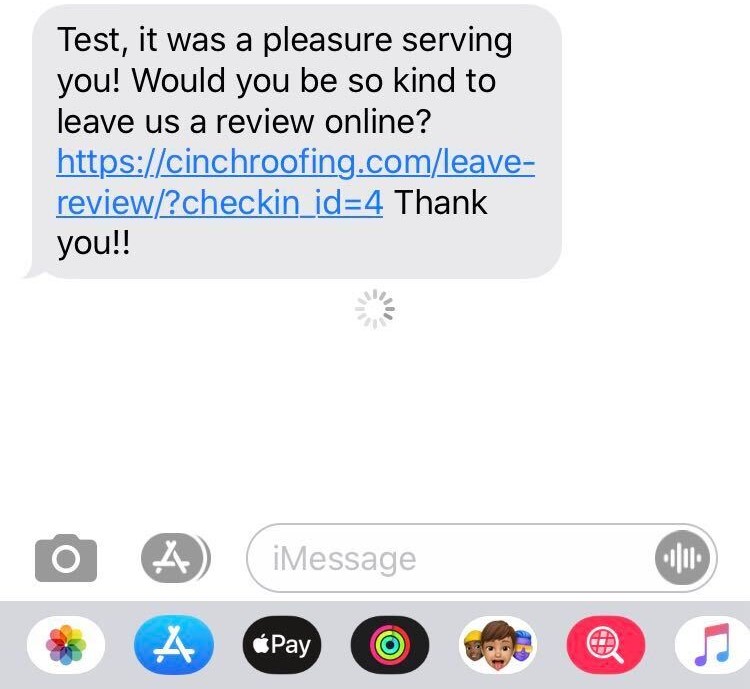 SMS text review requests are the most effective and efficient method to generate reviews from customers
Facilitating Reviews from Clients
If you check out reputation management statistics, you'll see that reviews are one of the most influential factors for consumers choosing a local contractor. Since those stats are indisputable, the question becomes, "how do I get more reviews?" DataPins provides that answer emphatically.
With SMS/text review requests, you generate more reviews at a faster pace. Best of all, you steer clear of any shady review practices that can get your GMB listing suspended. Text requests adhere to all review guidelines and set you apart from competitors using other kinds of tactics.
Know Which Clients are Satisfied
You shouldn't send review requests to customers who hated your services. It will only encourage them to leave a negative review that trashes your company and perhaps even questions your character and ethics.
But as a local contractor, you understand who is satisfied and who isn't. For good contractors, most clients are willing and able to leave a review. When they're satisfied, simply send over an SMS review request and watch the feedback start pouring in.
Making The Customer's Job Easy
Contractors are often frustrated when customers who are seemingly happy with the service fail to leave a review. There are actually several reasons why they fall short. First, they can't find your review form online. Second, they are too lazy to look closely for it. And third, they put it off until they forget about it.
The text request eliminates each of these barriers to a review which is why it is the most efficient way to ethically generate reviews. The customer has the shortlink right on their mobile phone and completes the request.
Get Started With DataPins
If you want to start generating reviews for your local business, sign up with DataPins. Our software automatically sends text review requests but also does so much more. DataPins provides check-in technology for local SEO and reputation management, along with email review requests for additional review generation.
The software's features are unrivaled by any competitor and is the only software that is likely to change the direction of a local contractor business. In addition to working with local roofers, plumbers, and other contractors, DataPins also works with agencies.
Call 800-775-1250 for SMS Text Requests