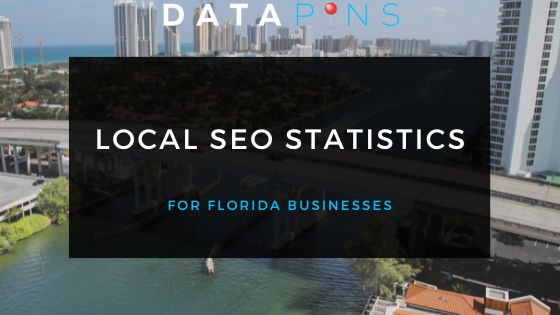 Florida local SEO statistics reveal granular insights into how Florida businesses can benefit from search engine optimization in 2023. At DataPins, we know a thing or two about helping Floridians rank online.
Google implemented the Pigeon update in 2014. Over the past eight years, it has shifted how search engine optimization tactics work. The update allows local businesses to reach more consumers in their immediate area. But small companies have been slow to take advantage of it.
Business owners should reference these Florida local SEO statistics when allocating their marketing budget in 2023. The goal of this post is to impress upon Florida business owners the importance of local SEO and how it can benefit your bottom line. 
1) 78% of local searches lead to purchases
According to at least one study, 78% of local searches (searches wherein the user specifies a geographic location) lead to purchases. Likewise, someone looking for a service or business near them on their computer or mobile device will purchase with that business 78% of the time.
Local searches commonly have purchasing intent. That's why local SEO is so powerful. You are essentially putting your business in front of the eyes of pre-qualified leads. They are ready to purchase, so all you have to do is be available to them.
2) Local queries have increased 34 times since 2011
One of the most common phrases for local searches is "near me." People are constantly using this phrase to find local businesses and services. So, for example, someone might search for "pizza places near me" or "mechanics near me." And according to Google, the frequency of "near me" searches has ballooned over the past few years.
There are so many people doing "near me" searches as a means of finding local businesses and services. You have probably done one yourself!
3) Over 50% of "Near Me" Searchers Visit The Location
It's all well and good to have your business visible online. But what percent of people who see your business on a local search will come in and visit your physical location? Well, according to Florida local SEO statistics, more than 50%. So over half of the people who find your business through a local search will visit your brick-and-mortar location.
Getting people's foot in the door is essential for most businesses. And from this statistic, we can see that local SEO can get people through the door.
4) 62% of consumers disregard businesses with no online presence
What can happen if you don't have an online presence or don't optimize your site for local searches? According to one survey, 62% of consumers won't even give a business the time of day if they cannot find information online.
The fact of the matter is that the internet is the way that people do consumer research in 2023. Suppose a consumer can't get the answers to their questions about your business by looking it up online. In that case, they are more than likely to purchase with one of your local competitors. 
Essentially, if you don't optimize your site for local searches, you aren't going to be visible to local consumers.
5) 84% of consumers trust online reviews as much as personal recommendations
Part of optimizing for local searches is getting reviews for your business. Here at Datapins, we provide an accessible software suite that helps you get more reviews and leverage your existing reviews to get more leads. But we're getting ahead of ourselves. The main point is that 84% of consumers trust online reviews as much as in-person references.
More than that, most consumers need to read at least one online review before making a purchase decision. Online reviews are an essential part of your off-site optimization – meaning there are ways to get more web traffic outside your website. Getting reviews and managing them will generate more leads.
6) 86% of consumers report using Google Maps to find local businesses
Have you ever opened up the Google Maps app and typed in a category like restaurants, malls, or gas stations? We're going to assume you answered "yes" to that question. We're confident in that assumption because 86% of consumers report using Google Maps to find local businesses.
When you search for anything in Google Maps, it will show you the closest matching results. And with so many consumers using the app to perform these kinds of searches, it's clear to see how important local SEO is. For business owners, it's a valuable tool that allows you to gain more leads through a service that people are already using.
7) 46% of all Google searches include location
Google is a top global resource for information ranging from news to entertainment. However, despite its wide-ranging coverage, nearly half of all Google searches contain location information. As a result, the number of local searches that occur on Google is revealing for Florida businesses.
When Florida consumers need services from a roofing company or HVAC contractor, they primarily go to Google to find them. Whether it's the Local Map 3-Pack or traditional organic results, the companies ranking in these spots will generate the most business.
Local SEO is one of the best investments a business owner can make. Whether operating from a large city like Orlando or a smaller town like Altamonte Springs, Local SEO for Floridians can be a game-changer for your small business in 2023.