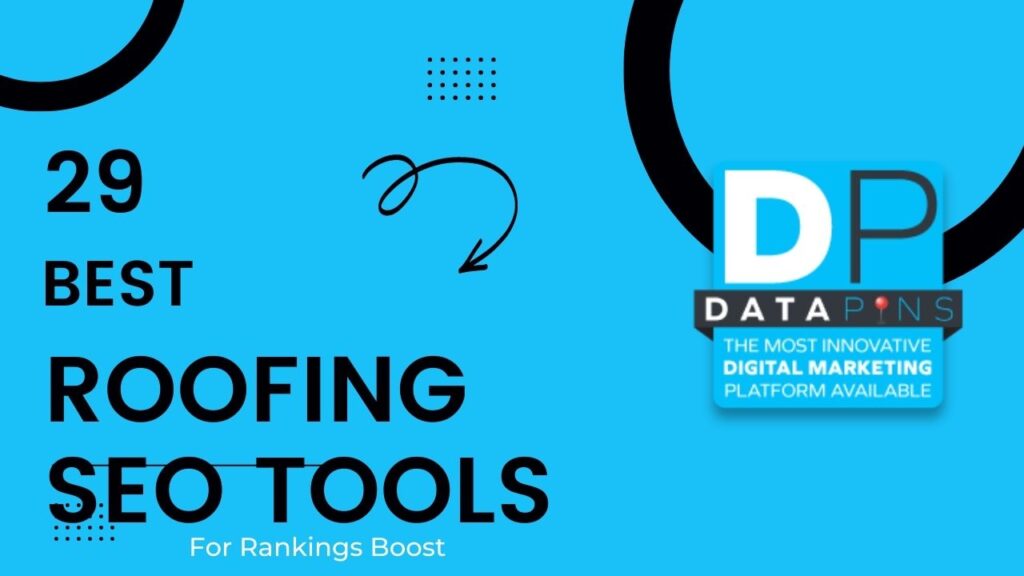 Roofers dislike SEO, and for a good reason. Most roofing SEO agencies provide mediocre services. Just ask Backlinko, who reports that 70% of consumers dislike their current SEO provider. And who can blame them? Most agencies don't understand the contractor lifestyle. Most marketers have never had the inherent work ethic of authentic roofing professionals. They also don't provide roofing SEO tools.
There are other reasons why roofing companies loathe SEO. For example, roofers are regularly bombarded with emails, DMs, and other unwanted propositions for marketing services. Most of these roofers already have an ineffective marketing provider and certainly don't need an additional consultant who learned their SEO "skillset" from TikTok videos.
While roofers' disgust with the marketing industry is warranted, the shame is that SEO works if you have the proper tools. The problem is that agency owners claim that tools are "black magic" and that "real SEO" requires paying multiple thousands of dollars per month for "hard work."
There's nothing hard about having one of your flunkees write an uninteresting blog post about "roof repair in city." and then telling clients you can't update their Google Business Profile because it might cause a suspension. So what exactly do these agencies do? Aside from charging hardworking Americans way too much money for "content."
But that's enough about why roofing marketing agencies are incompetent. You're probably wondering about the best roofing SEO tools for your business. Well, here are the best 29:
1) DataPins
DataPins is the best SEO tool for roofers because it automates content, reputation management, and Local SEO in a single app. Roofers snap a photo of their job, write a short caption, and apply the necessary location and service tags.
DataPins does the rest by assigning geo-coordinates and publishing the pin on the corresponding website page. For example, if you drop a pin for a shingle roof repair in Plano, TX, your pin appears on the shingle roof repair service page and the Plano location page.
Using pins beats blog posts because it consistently keeps service and city pages fresh with unique content that describes your jobs. The SEO benefit is apparent as you can rank for more long-tail keywords like GAF Shingle Repair in Plano and increase the word count on your primary pages.
Aside from the ranking benefit, DataPins also enhances reputation. Regular city pages usually fail to convert because they look like spam and provide no evidence that your company works in that city. DataPins provides social proof and also connects local reviews to their corresponding pages.
2) Yoast
Yoast is one of the best WordPress SEO plugins available, evidenced by its 200 million downloads. Roofing companies can easily assign a target keyword, title, meta description, and URL slug to each URL.
Also, Yoast grades your on-page SEO based on your assigned keyword. As a result, you can make real-time edits to improve your on-page SEO score and have a better chance of ranking for the target keyword.
For roofers who lack technical savvy, Yoast also allows you to manually set a page as noindex, meaning Google is instructed not to crawl that URL. Typically, you would need HTML knowledge to perform this task.
3) Rank Math
Rank Math is a Yoast alternative and, in some ways, is a better plugin. For example, RankMath allows roofers to insert schema markup and structured data, including schema FAQ, without HTML coding.
Like Yoast, Rank Math helps you refine your on-page SEO in real-time. The plugin uses 30 grading factors to help roofing companies maximize their SEO potential. RankMath also lets you target multiple keywords.
Furthermore, Rank Math presents pertinent information at the right time. Its simple and powerful user interface highlights the most critical statistics about your posts and pages on your screen. As a result, roofing contractors can immediately upgrade their content.
4) Google Search Console
Every roofing company should set up its Google Search Console dashboard for daily reports about which pages are getting clicked on Google Search. Search Console has the best user experience (UX) of all the SEO tools from Google and provides easy-to-understand insights.
Setting up your website as a domain property on Google Search Console requires you to access your hosting account for DNS records verification. Google explains the process here, but you may need further assistance.
5) Ahrefs
While SEMRush and Moz provide similar SEO suites, Ahrefs is the most complete tool for roofing companies. Ahrefs is second only to Google regarding the size of its web crawler. Additionally, the Site Audit feature is unmatched by competitors. It reveals tons of SEO insights for your website and competitor websites.
Roofers can also use Ahrefs to evaluate competitor backlink profiles and perform a content gap analysis. If you target specific keywords in an area, Ahrefs will give you a roadmap to overtaking competitors that rank for these terms. In addition, Ahrefs helps you fix broken website links.
6) Google Analytics
Although Universal Analytics (the soon-to-be expiring version of Google Analytics) provides a better user interface than Google Analytics 4 (GA4), the tool remains one of the most valuable in search engine optimization. GA4 can track all of your website data and organic traffic, including from non-Google search engines.
Setting up GA4 is relatively simple if your website is already tracked with Universal Analytics. Google explains how to add GA4 to your website property here, which you'll be required to do by 2023.
7) Answer The Public
Answer The Public is a free SEO tool that helps roofing companies find topics consumers search for online. A recent study from Ahrefs revealed that Google hides more than half of its user queries in Google Search Console, which means a ton of non-tracked keywords drive traffic to websites. A tool like Answer The Public helps you find these keywords.
ATP also helps roofing companies target featured snippets for various subcategories. For example, you might want to answer a question like how much does roof repair cost in Dallas? Claiming the featured snippet for this phrase can help you eat up SERP real estate and gain traffic.
8) SEMRush
SEMRush has been a powerful SEO tool dating back to 2008. Over the past 10+ years, SEMRush has continued to evolve and add new features like user intent filtering. In addition, the domain analysis tool is helpful for roofers looking to assess their website against nearby competitors.
SEMRush's reporting features make it easy for roofing contractors to pull metrics that can inform future SEO strategies. Also, the on-page SEO checker makes tracking keyword rankings a breeze. SEMRush is an intelligent investment, as we can trust it to evolve with new algorithms.
9) Moz Pro
Moz Pro was once considered the #1 SEO tool for roofing companies but has dropped off recently. Instead, Ahrefs and SEMRush offer more helpful and innovative features in 2023. Still, Moz Pro remains a valuable tool for keyword research as its volume estimates are the most accurate.
However, it's now best to use Moz Pro in collaboration with other tools like Majestic since Moz's link-building metrics leave something to be desired. In addition, Moz's on-page SEO grader is also obsolete, so it doesn't make sense to craft content using Moz's on-page analyses.
10) Majestic
Majestic is an excellent link-building tool for SEO-related analysis. Majestic's Site Explorer allows you to analyze any domain's link-building metrics quickly. For example, you can track the number of backlinks, the anchor text, and the trust flow of referring domains. This tool helps you hone in on links.
While Majestic is great for link analysis, it's limited in other areas of SEO. As a result, it's best to use Majestic in collaboration with a keyword research tool like Moz Pro. You may also need a content analysis tool like Surfer SEO to maximize the findings from Majestic.
11) Google Trends
Many of the best SEO tools for roofers come directly from Google. After all, Google has the best data about itself. One example is Google Trends, which helps roofing companies measure a topic's popularity trajectory. Google Trends will even break down the metrics by location.
Contractors can evaluate rising queries, interest over time, and geographical locations of a keyword. Google Trends is especially helpful for local roofing companies looking to gauge their specific service types in a particular zip code. There's always a benefit to using Google Trends.
12) SEOQuake
Free SEO tools for roofers are even more appealing because they require no payment. SEOQuake is an example of one of the most popular free Chrome extensions for SEO. In addition, SEOQuake performs on-site audits and helps you evaluate a website's indexed pages and potential rankings.
SEOQuake is easy to install on your browser, especially using Google Chrome. In addition to the features mentioned above, SEOQuake allows you to analyze keywords and keyword density on a particular page. So a roofing company can't go wrong by installing this free extension.
13) Siteliner
Siteliner helps prevent roofing websites from publishing duplicate content, which can cause keyword cannibalization and limit SEO effectiveness. In addition, Siteliner is free and easy to use as it scans your entire website for duplicate text. Also, Siteliner identifies broken links and average site speed.
While Siteliner is an effective way to track duplicate content, your job is not done after running the scan. First, if the tool finds duplicates, you must determine which of your pages ranks better for the target keywords. Then, you can use Google Search Console to measure each page's performance. Eventually, you'll redirect the worse page to the superior URL.
14) Keywords Everywhere
Another excellent SEO Chrome extension is Keywords Everwhere which aggregates data from various Google tools to identify the best keywords. Installing this browser extension saves roofing companies lots of time as it consolidates the work of several tools into one convenient dashboard.
Keywords Everywhere works while you search Google as long as you activate the extension on your Chrome browser. Using this tool, you will indeed find countless roofing keyword opportunities to target in 2023.
15) Screaming Frog
Roofers know that a property relies on its foundation; the same is true of a website. Screaming Frog is the best technical SEO tool on the market. It allows roofers to crawl their websites to identify every kind of technical issue, including indexing, status codes, and problematic redirects.
Unlike many other SEO tools on this list, Screaming Frog is an external software you run on your computer. Since some websites have thousands of pages, the software must use many resources to crawl the URLs fully. However, most roofing websites are not more than 300 pages, so they should go fast.
16) Detailed
Detailed is another Chrome extension that provides incredible SEO insights for roofing contractors in 2023. Detailed delivers one-click info on any website you visit, including title tags, meta descriptions, no index tags, and much more.
Many roofing company owners don't know much about reading HTML source code. Detailed translates the information, so it's easy to consume. You can immediately look at competitors' websites and grasp their SEO strategies.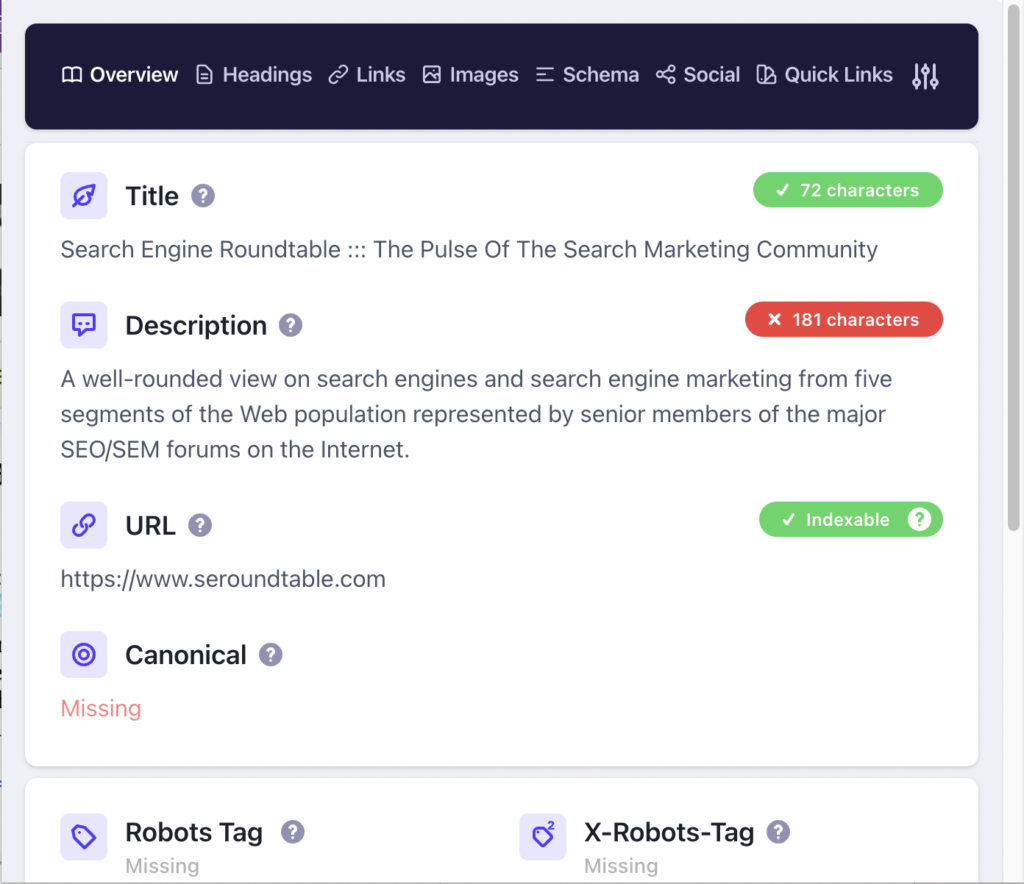 17) HubSpot Website Grader
HubSpot Website Grader lets roofers insert their URL for an instant report card containing insights about site performance, issues, mobile Optimization, user experience, and security. While some similar on-site graders fail to deliver worthwhile metrics, HubSpot is an exception.
Be careful, however, that HubSpot wants you to enroll in their SEO training academy, where you can find out how to improve their recommendations using other resources, including many of the tools on this list.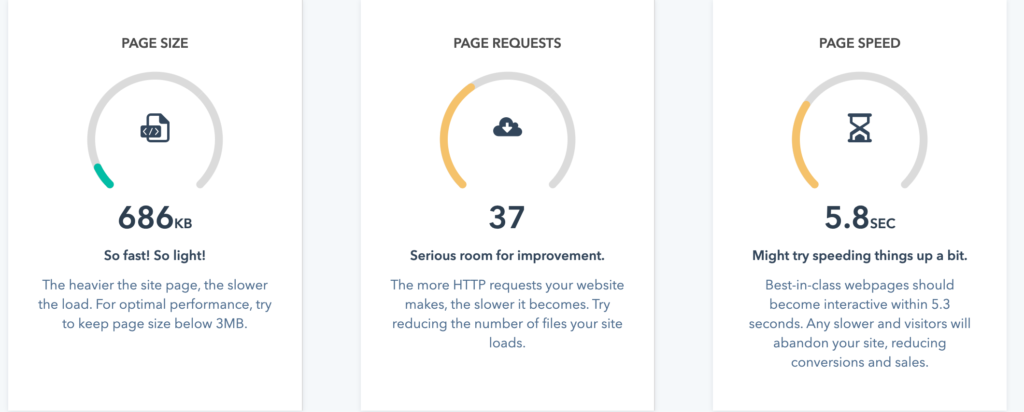 18) Surfer SEO
Surfer SEO is like getting the answers to a test before you take it. Insert any roofing keyword into Surfer, and it'll tell you every SEO tactic used by the site currently ranking for that term. Sometimes editing your content to a 100% score won't be enough to rank #1 (because of the lack of backlinks), but it will get you closer than you ever imagined.
One downside of Surfer is its price. Surfer costs a minimum of $50 per month. The good news is most roofing companies won't need an upgraded plan since they manage only one roofing company website.
19) Cora SEO
Cora SEO is a more in-depth but less user-friendly variation of Surfer SEO. To be fair, Cora SEO existed before Surfer's emergence and is a more accurate on-page SEO analyzer in many ways. Still, the clunky UX and high price encourage roofing companies to choose Surfer SEO instead.
For contractors wanting to get into the nitty-gritty of SEO, Cora is an appealing option. It says no other company uses the 2,000 ranking factors this software considers when grading your URL.
20) Jasper
Jasper generates coherent AI content to a degree never previously witnessed. For example, roofing companies have many service pages that require mundane explanations that visitors rarely read through. Jasper makes it easy to generate helpful content and speed up the SEO process.
While Jasper is the best AI tool, you still need human oversight. Google's Helpful Content Update warns against content created primarily for search engines, which is what most AI content aims to accomplish.
For example, Editing the content that Jasper outputs for your roofing website is vital before hitting the publish button. We recommend that you use it for outlines instead of writing complete pages or posts. Still, Jasper is a valuable tool for generating all types of content outlines for SEO purposes.
21) Canva
Image optimization is an underrated aspect of SEO for roofers, and Canva provides lots of great resources. Instead of uploading cheesy stock photos to your roofing company website, use Canva to develop original image files and infographics.
Canva makes it easy for roofers to brand their graphics by pulling the color scheme from the company logo. In addition, creating new image files is helpful for SEO, as Google's crawlers no the difference between a stock photo and an original graphic.
22) Link Whisper
Roofers are constantly bombarded with blog posts about the importance of link building. Still, internal links can be equally as effective for SEO. One tool that makes internal liking easy is Link Whisper. The tool suggests the most appropriate internal linking opportunities on each page and post.
Roofers can quickly add relevant internal links to their pages based on Link Whisper's recommendations. As a result, link equity transfers throughout the website while expanding topical authority.
23) HARO
Building links externally is a complex process for some roofers. The best way to get links is by getting featured in news articles. In addition, you might have some local contacts to reach out to on your company's behalf directly. Still, HARO provides daily link-building opportunities.
Signing up as a HARO source allows roofers to receive daily emails with lists of reporters and their topics. The prompts will outline what kind of sources they need for articles. Press CTRL + F (Command + F on Mac) and search for roofing and related keywords to find excellent opportunities.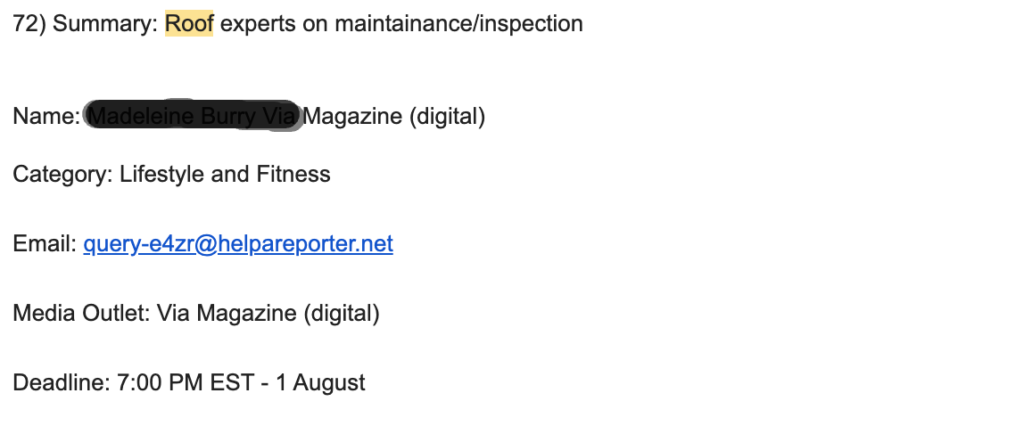 24) Ubersuggest
Uberssugest is a SEMRush alternative that provides limited free SEO research. If you're looking for fast keyword research on one or two terms, Ubersuggest can be helpful. However, upgrading to a paid account doesn't make much sense despite its relatively low cost.
Roofers can benefit more by investing in a superior tool like SEMRush or Ahrefs, providing all the data they'll need for an SEO campaign. Still, it's nice to have Ubersuggest as a backup option.
25) Open Link Profiler
When you get deep into the weeds of competitor analysis, you'll find that some competitors hide their backlinks from popular crawlers like Ahrefs, Majestic, and SEMRush. One way to combat this is to use the Open Link Profiler tool.
The tool's relative lack of popularity allows link builders to overlook its crawlers. As a result, stealth roofing companies can find hidden backlinks from their competitors by checking for them on Open Link Profiler.
26) SERPerator
Roofing companies need to know how search results look in a specific zip code. The SERPerator tool from Mobile Moxie helps them achieve this. First, assign a country, state, city, or zip code and insert a keyword. Then, SERParator does the rest by providing accurate local search results.
In addition, SERPerator allows you to test local SERPs by device type, like iPhone 12 Pro, Google Pixel 5, etc. Roofing companies can even preview the results as they appear on the specific mobile dimensions of each device.
27) WPRocket
Speeding up your website is one way to improve its SEO performance. WProcket helps speed up your roofing company website without needing technical knowledge. As a WordPress plugin, WProcket automatically assigns settings that enhance your website's loading speeds.
You should check your current speed by visiting Google Pagespeed Insights. Be sure to monitor the desktop speed score and the mobile speed score. You can combine WPRocket with a CDN like Cloudflare for even better results.
28) Imagify
Image file sizes can slow down your website and ruin the user experience. The Imagify plugin automatically converts your image files to WebP, making them easier for browsers to load. Imagify helps you maintain your image SEO and contributes to potential SEO improvements via speed.
Of all the WordPress image compression plugins, Imafity is the most effective. The tool allows roofers to resize images on the go and auto-optimizes photos to the ideal compression level. Finally, Imagify backs up the originals if you need to restore images.
29) Whitespark
Roofing websites require foundational links in the form of NAP citations. Whitespark is the best SEO tool to submit dozens of citations for your roofing company or update current listings with new contact information.
Foundational links help establish your roofing company domain on Google search and prove the legitimacy of your business from a local SEO perspective. In addition, roofers can invest a one-time fee of $199 per location.
Do Roofing Companies Need SEO Tools?
Although the SEO industry has earned its horrible reputation, it remains a highly effective method to produce new roofing leads in 2023. However, roofing companies need the best SEO tools to get the best results.
Like roofing projects require the best tools and equipment, so does an SEO strategy. As a result, compiling the most effective roofing SEO tools gives you a better chance of ranking on Google searches and acquiring new customers consistently.