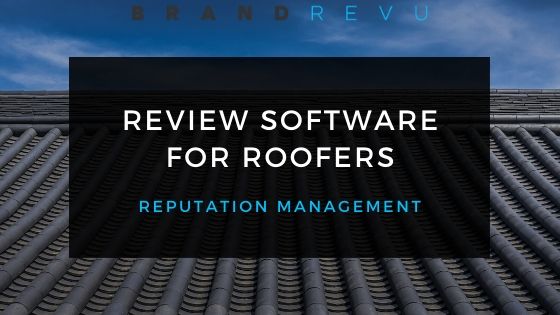 Roofing company reputation management software is necessary for all roof repair businesses in 2023. While dozens of suitable options exist, DataPins is the only tool that offers both reviews management and Local SEO automation.
For local contractors, ranking in multiple cities is one of the most important parts of their online marketing campaign. Combining increased visibility with an enhanced reputation is a great combo.
Reputation Management for Roofing Companies
For roofers, reputation management is vital to maintaining and increasing consumer interest, trust, and retention. Because of how Google's local search algorithm is constructed, reviews matter greatly to local SEO. Roofing companies that demonstrate credibility in a particular service area can rank on Google in those zip codes, even without their primary business address being located there.
Aside from the SEO benefit of reputation management software, roofers with several positive reviews will also convert at a higher rate than competitors. Because consumers gauge trust based at least partially on review ratings, both the quantity and quality of such reviews matter. Aside from Google, reviews on Facebook and Yelp also matter.
Why Roofers Need Reputation Management Software
It's easy to see why a good reputation helps roofers get more customers and keeps them returning when services are needed. But establishing such a reputation takes work, not just on the ground with your services but also online with your digital marketing campaign.
A series of tasks are required to both establish and maintain a roofing company's standing in one or more communities. Software like DataPins makes these aspirations a reality and does so without you needing to get involved in the grind of internet marketing and reputation management. All you need to do is conduct pinning on job sites so you can rank everywhere.
Convert Roofing Customer Prospects
Finding a local roofer online is one thing, but trusting them enough to use their services takes us a step beyond. After all, a great website that is properly optimized can rank on Google for certain keywords. Still, to really convert leads at a high rate, the visitor must be able to verify your reputation through 3rd party platforms like Google Business Profile, Facebook, and Yelp.
It helps when reviews from these 3rd parties are integrated onto your company website so that social proof exists without the user having to go to each site to find out your reputation. With DataPins, you can display all of your reviews from 3rd party platforms like Google Business Profile directly on your homepage, review page, and local city page.
As visitors see that you provide the service they are interested in and have reviews from credible sources to confirm that these services have been performed within their area, they will convert.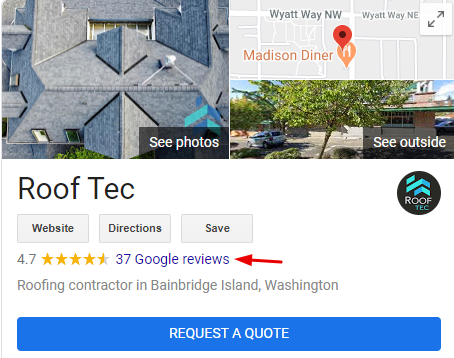 Simply put, reviews impact conversion and can make up to a 275% difference, according to our internal estimates
Expand Your Service Areas
Roofers often ask digital marketing agencies about how to rank for keywords in multiple cities. If your business address is located in Pinewood, FL, but you'd like to rank in the larger area (Miami), it is critical that you establish credibility within the Miami city lines. Now how do you do that? Through pin technology through DataPins.
When you service a customer in the city of Miami, you will pin at their residence and take a picture of the job. This pin will be routed to your Miami city page on your company website, and when that same customer leaves a review, it will be verified as from Miami and also appear on your city page.
Your page gains authority as Google sees this user-generated content from a reliable and local source. While this is often thought about in large cities, it can be done for any location.

The concept of Geo-reputation suggests that your brand's authority changes based on each zip code
Improve Online Visibility
We noted that reputation and local SEO are closely related. Businesses that rank well on Google's Local 3-Pack typically have a good reputation and an established presence in one or more service areas. Traditional organic search results can also be influenced by reputation, especially when the query has buyer intent and targets a local service (like a roofer).
DataPins software helps roofers appear more prominently online, where it matters most. As potential customers view your business entities (websites, listings, etc.), they are exposed to your brand. Leads generated through your brand exposure are far superior to leads you would buy from a 3rd party leads service.
Exclusive leads convert at a higher rate and also have a greater chance of becoming repeat buyers. The most efficient route to exclusive leads is through web presence and visibility. DataPins reputation management tool helps you achieve this goal.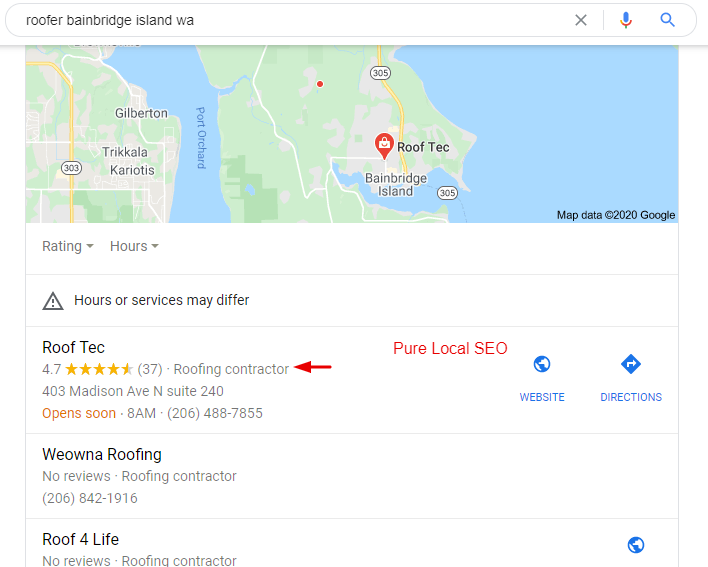 An enhanced reputation is only as effective as your company's overall visibility
Reviews Management for Roofers
Contrary to conventional wisdom, a perfect 5-star review rating is not ideal for roofers. Consumers suspect illegitimacy when they find any business with absolutely perfect reviews across the board. You'd rather sit between 4.5 and 4.9 on aggregate star ratings to achieve the greatest performance and earn the most trust.
Aside from the rating, reviews can be challenging to manage, especially for a full-time roofer.
Review Responses
When someone leaves a scathingly negative review, someone must be there to respond to it in a calm and respectful manner. Review responses have value even for positive reviews. When potential customers see that you are responsive in both negative and positive cases, they are more likely to view you as a viable candidate.

Review responses reflect your company's attentiveness and concern for existing customers
Review Platform Diversity
Reviews are most effective when spread across multiple sites. It also gives your company more validity when people can see that multiple sources have formed a reputation rating on your service.
DataPins helps roofers manage reviews on multiple 3rd party platforms, including Google, Facebook, and Yelp. Google is the most trusted and the most influential for SEO results, but each platform provides its own contribution to your roofing company's presence.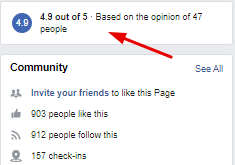 Diversifying your review sources (Google, Facebook, Yelp, etc.) helps enhance your reputation
Review Presentation
Since spreading reviews through multiple platforms is best for credibility and SEO, it makes sense to have a place where potential customers can view all of these reviews at their convenience.
With DataPins, that place will be your company website through the DataPins widget (compatible with WordPress and other CMSs.) Reviews are displayed as a form of social proof so that visitors are convinced that your company is trustworthy and credible.

SEO-friendly review widgets use API to pull authenticated reviews from Google and other sources
DataPins Reputation Management Tool for Roofing Companies
For an all-in-one software solution for roofers needing reputation management, DataPins is a must-have. In addition to the pins and display widgets, DataPins is the best reputation management software for roofers who are looking to rank for local keywords.
Local SEO is an integral part of the DataPins tool and really what separates it from most other software brands. Roofers can trust that this software will help them achieve all of their reputation goals.