HVAC reviews can make or break your business. According to reputation management statistics, reviews are the single most important factor for lead generation in 2023. DataPins provides two excellent methods for improving reputation. Automated review requests and local pins.
Review requests via SMS (text messages) and email is a proven way to increase response. Local pins are an innovative way to boost local SEO, both in your main service area and nearby surrounding areas. HVAC contractors are sometimes frustrated by the lack of reviews. They do great work but can't prove it online. With the help of DataPins, your hard work will be put on display.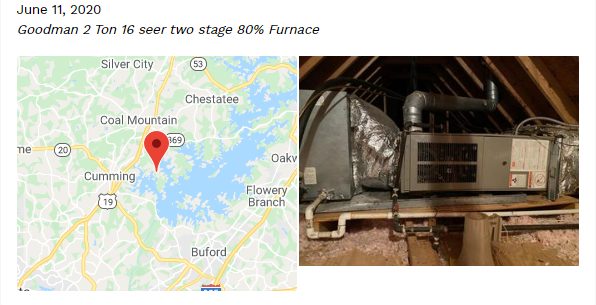 Reputation Management Software for HVAC Contractors Improves Local SEO
SMS/Email Review Requests for HVAC
Many great HVAC companies don't get due credit online. The primary reason is that satisfied customers are too lazy to leave reviews. We can't blame them. Who wants to go through a process they don't understand? Especially when they have a million other things to worry about. DataPins makes the process easy with SMS and email review requests.
By providing a shortlink through text message or email, the hard part is eliminated for the consumer. Using this method, reviews take less than a minute and nearly triple the chances of the customer taking time to do it. The end result is more reviews and a better reputation.
Local Pins for HVAC Companies
Reviews are great, but they only matter if the consumer knows who you are. Checking reviews is further along on the consumer's journey than their initial introduction. To find you initially, your company needs effective local SEO. The best way to boost local SEO in 2023 is through DataPins's pin technology.
Local pins populate jobs and locations of your services right to the corresponding webpage. You repair a furnace in Miami, FL, and the pin shows up on both the furnace repair page and the Miami city page. Local SEO has never been this easy. Your only job is to equip each technician with the DataPins app so that they can do pins for every service call.
Rank in Multiple Service Areas
The biggest frustration among local HVAC contractors is their inability to rank in nearby cities. Google Maps focuses on proximity which restricts a contractor in a low-population suburb. Most potential clients will never find their listing or search result on Google. That is unless, of course, they buy DataPins.
With local pins, HVAC companies can prove they worked in a specific area on a specific job. These pins are published to the corresponding location page, which strengthens its local signal and gives it a greater chance of ranking on the SERPs. If you work throughout an entire county, you can show up in lots of different cities near your main zip code.
Turn Traffic into HVAC Customers
Pins help you rank, but they also help you convert. Since the ultimate goal is to sell heating and cooling services to more customers, pins are invaluable. Social proof is important for any business, but especially for local contractors. Consumers want to see that you are a real company with real experience.
When they see proof that you worked on the service they need in the city they live in, they are far more likely to inquire about your services. Pins can be distributed through social channels to expand reach even further. Imagine how far ahead of your customers you'll be by 2024.
Purchase DataPins for HVAC
Looking to buy DataPins today? We can accommodate you as soon as you need it. Our software integrates seamlessly with WordPress websites for optimal user experience. Our reputation management software is 100% white hat, meaning we only request reviews from customers you've actually serviced. The vision is to empower quality HVAC contractors to showcase their great work online and earn benefits through local SEO and other conversion rates. Contact us today.