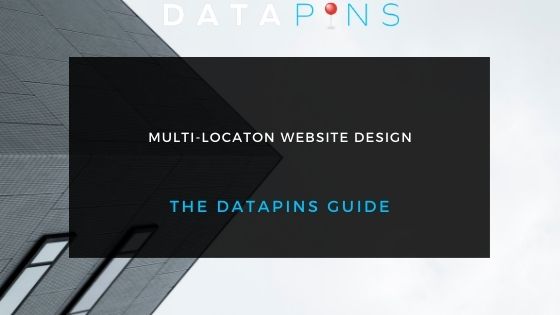 Businesses with multiple office locations often face extraneous challenges with their website, SEO, and digital marketing campaigns. As a result, DataPins produced a guide to help you maximize your efforts.
If you require a multi-location website, then allow us to congratulate you. It means that your business is expanding and that you are looking to the future and further growth. As a business owner, though, you already know that scaling comes with serious challenges.
Not least of these challenges is coming up with an excellent multi-location website design. DataPins arms you with vital information to create a fantastic multiple location website in the following guide.
You have to keep in mind certain aspects of your business to design an excellent multi-location website. You also have to keep your business goals at the forefront of your mind. So read along as we break down some of the most essential principles for multi-location website design.
Hyper-Local Considerations
When developing a multi-location website, it is critical to maintaining a hyper-local approach. Several tenants of local SEO apply more significantly to multi-location businesses. Using these strategies virtually guarantees more tremendous success than otherwise possible.

Location Pages
You need a location page for each city you service and each of your office addresses. Frequently these two things overlap, and you can put your corresponding office address on the appropriate city page.
Still, you may also service nearby cities where you don't have an office. In these cases, you still need to publish location pages to get businesses from those consumers. For example, if your office is in Orlando, FL, you can create an individual city page for Altamonte Springs, FL, and assign pins to the location.
Be careful when publishing hundreds of city pages with similar content, as it may trigger an algorithmic filter that dilutes your website's overall rankings. Instead, the best strategy is to make each page as unique as possible.
DataPins
You might wonder how to diversify your location pages in a way that satisfies search engines and their users. The answer is DataPins: a local SEO tool for contractors.
DataPins allows contractors to drop pins at each job they perform and automatically publish them to the corresponding location page. The tool also sends review requests through email and text messages.
You'll find that DataPins automates unique content by making sure only location-specific content appears on the appropriate pages. The tool serves as a curator of user-generated content, social proof, and reputation.
Google My Business
While your GMB listing is separate from your website, they are connected in the context of your online marketing strategy. The highest-ranking GMB listings have a complete website with content for each location.
Each office address should have its own Google My Business listing, which you can verify via postcard. You should connect your main website to each one of your listings in the GMB website tab.
Include images of offices, information on which areas you service, operation hours, and services offered.
It is also essential to keep this information accurate and updated. NAP (Name Address and Phone Number) information must remain consistent between your multi-location website and your Google My Business listing.
Having inaccurate or inconsistent NAP info hurts your rankings. Also, Google prefers to display recently updated content when it's available, so update your Google My Business listing often.
General Local Website Principles
Aside from hyper-local strategies, your website must follow general best practices to increase conversions and appeal to visitors. As you know, SEO is influenced by the user behavior on your website. Make an extra effort to present an ideal user experience to your target consumers.

Brand Consistency
Multi-location website design requires a strong brand. Focus on consistent logos, color schemes, and slogans for every page on your website, even different location pages.
The customer wants to feel that some effort went into the page about their location, like the homepage. In other words, it's never a good idea to copy and paste text and images from one location page to another. Instead, the content should be personalized but still brand-consistent.
One way to achieve this personalization is by including background images of local landmarks. You can also have a personalized quote from the regional office manager or a message to the specific community in question.
Navigation
A good multi-location website design makes it easy for consumers to navigate the area pages quickly and easily. However, consider that not all of your visitors will be directed to the specific area page. Instead, some will land on your home page or a blog post through organic traffic.
For this reason, it is a good idea to develop an overview page. Think of an overview page like a transit hub where multiple people can get to where they need to go via a central location. Therefore, your overview page should have clear and prominent tabs for each area you serve.
Consider embedding a map that displays all of your service locations. Include an option to click on each one and be directed to the corresponding page.
URLs
With your different location pages, you have a unique and golden opportunity to make the user experience smooth for your visitors and to optimize for local SEO. Each of your location-specific pages should have unique URLs that contain the name of the city they correspond to.
Make the URL format as consistent as possible too. This will make it easier for search engines to index your pages accurately on relevant searches.
For instance, a remodeling contractor in Miami and Key West should have clean URLs like "/key-west" at the end instead of "/contractor-key-west."
Content
Content for each of your location pages must be relevant and accurate. For example, one of your locations in Pagosa Springs may be running a promotion that your other locations aren't. So you have to make sure that the promotional content is only present on the relevant area page. 
Relevant content also extends to the unique location content that you publish on each page. For example, community events, messages, images, and services should be tailored to the appropriate location page.
This will not only enhance the user experience for your website; it's also good for SEO. Besides, no one likes finding out that a promotion they are excited about isn't actually being offered in their area.