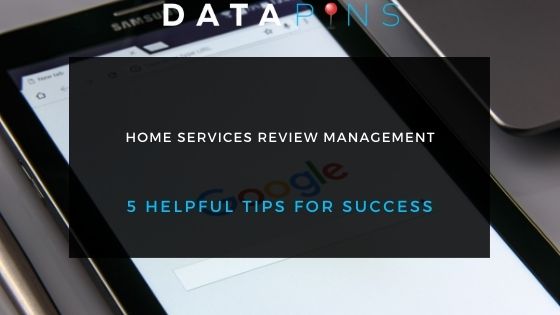 Home services review management can be an exhausting task. You can have 50 5-star reviews, and one unhappy customer will remove their misdirected frustrations on your company and threaten your reputation. Luckily, there are tools and SOPs you can utilize to manage the process.
As a result, you can effectively control how you respond to and manage online reviews, which helps your internet marketing and SEO strategy. Review management is important because reviews are crucial to your online reputation and customer acquisition.
How Important is Home Services Review Management?
Consider the following statistic: 79% of consumers report that they trust online reviews at least as much as personal referrals. That is a staggering amount of trust to put into the opinions of strangers. It's also why home service review management is so important. But there is much more to the story.
Review Management Tips for Home Services Contractors
If you've overlooked your home service company's reviews, you need to read the following post because DataPins discusses how you can leverage reviews to earn more business. Check out the following tips to improve your review and reputation management in 2023.
1) Be Easy to Find Online
Your home services company should appear on all the major review platforms like Google My Business, Yelp, HomeAdvisor, Angi, etc. You also want to claim your business on other platforms like Facebook and Houzz. On most of these platforms, you can opt-in to review alerts that notify you every time a user submits feedback about your company.

Beyond notifications, you'll also want to regularly log in to these platforms to monitor and respond to reviews. While the process can be time-consuming, you must keep in touch with your customers online.
2) Respond to Every Review
97% of consumers read company replies to consumer reviews which means that your potential leads and customers are specifically looking to see what you say in response to a customer review.
Apart from ingratiating yourself to potential customers, responding to reviews lets existing customers know that you care about their experience. While it's good practice to respond to both positive and negative reviews, it is essential to respond to negative ones.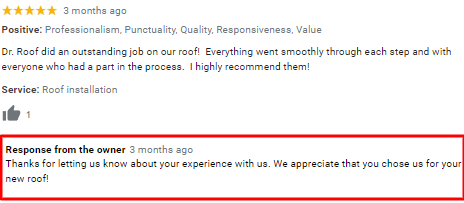 Acknowledge the complaint and ask how you can do better in the future. Don't make excuses, be apologetic but not overly apologetic, and let the customer know you will work to correct the issue.
3) Reach Out to Customers
Don't be afraid to reach out to customers and ask for reviews. They will be more willing than you probably think, which is crucial for your business. Why? Because the only thing worse than having negative reviews is having little to no reviews. The more reviews you have, the more a customer will be willing to research and hire your business.
If a company has a perfect 5-star rating but from a pool of only two reviews, would you be likely to hire them? Maybe, but you'd likely move on and look for a business with more reviews to evaluate. We understand that asking for reviews can be tricky, so here are some tips:
Include a Link: Make it easy for the customer by texting or emailing them a link that leads them right to your review page.
Speak Sincerely: Let customers know how vital their review is to your business. After a well-done job, they will likely be more than willing to help.
Train your Employees: Make it protocol for your team members and employees to ask for reviews.
Use DataPins: Utilize the DataPins tool to automate review requests via SMS and email.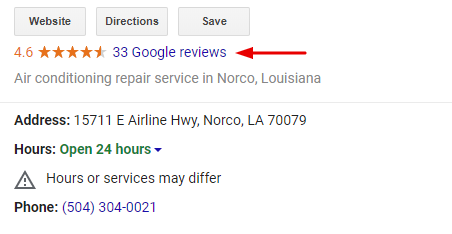 Home services reputation management has a significant influence on conversion rates. As a result, reaching out to customers personally can help reflect your business well on digital platforms.
4) Use Feedback to Improve Your Company
Don't just read your reviews; listen to them. You'll find that only rarely will anyone leave a completely false review of your business. By and large, they will highlight their actual experience. You can learn about your company's strengths and weaknesses when the reviews are reasonable.
When the reviews are bad or mention a minor dissatisfaction, you can learn where you need to improve. Of course, you can't completely invest in the opinions of emotionally charged internet users. Still, take every point into careful consideration and learn from your reviews.

Remember that sometimes bad reviews result from something unavoidable, like a slammed staff, supply shortages, or simply the customer having a bad day.
5) Use Reputation Management Software
A good reputation management software suite will make home services review management simple. The software can automate some things we discussed, such as SMS and email review requests.
A good reputation management software suite will also provide you with a single dashboard from which you can keep an eye and manage the reviews from all review platforms. Also, reputation management software will help you leverage your existing reviews to earn new ones and generate leads.
Take DataPins, for example. The DataPins tool not only streamlines the review request process but it leverages your reviews and jobs as social proof for your website. Users can monitor your company's reviews across various platforms directly on your company website (via a plugin slider).
DataPins is incredibly unique because it allows home service contractors to showcase their recent jobs with geo-coordinates, schema markup, photos, and captions. As a result, your service and city pages rank for more keywords and convert at a higher rate because of the user-generated content.