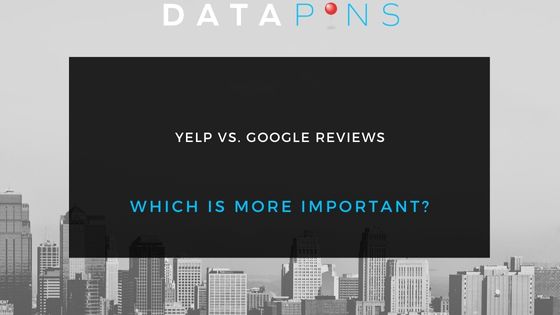 Yelp vs. Google has been a debate in reputation management for over a decade. So which platform is better for customer reviews?
Make no mistake about it; reviews are critical to your business. Consider that 84% of consumers trust online reviews as much as word-of-mouth referrals. In addition, most people find new services by searching online.
While establishing a presence on multiple review platforms (Google, Yelp, Facebook, and others) is the best strategy, it's still important to understand which platform you should prioritize for your business in 2023.
The Best Platform for Customer Reviews
Google Business Profile (Google My Business) is the best platform to focus on customer reviews. As you gain more reviews on Google, your listing begins to rank higher in search results for relevant queries. Furthermore, more customers will contact your business after a search when they notice the positive reviews associated with your listing.
Creating Business Profiles
Both review platforms are free. However, optimizing your profiles for SEO and managing your online reputation requires time, effort, and resources. Still, it all starts with the first step of creating your business listing. Here's how you do that for each platform:
Google
With Google, you will have to have your business confirmed by sending in a postcard with some of your business's information. You can start the process right here; it isn't very much work. Once you are set up, you can fill out your profile, and you will be able to see the reviews people leave for your business.
Yelp
With Yelp, you go through a similar process to claim your business. Your business may already be listed, but you will still have to claim it. You can do that right here. Once your listing is live, you will find it by searching your company name.
Yelp Vs. Google: Lead Generation
A Google Business Profile listing is very likely to appear when someone is doing a relevant search on Google. Your Yelp profile may also appear, but probably much lower on the search engine results page. In general, Google Business Profile will make you more visible to those using Google, which accounts for about 4.3 billion individuals.
Compare that to the 178 million monthly users on Yelp, and you can already see a bit of a discrepancy.
Google Business Profile
One of the most fantastic things about Google Business Profile is that you can use it to generate more leads for your business. The platform allows you to write a bio and share critical information like what areas your business serves, what services you provide, and an overview of your business.
The more you fill the profile out, the more visible you will be to people in need of your services.
Yelp for Business
On the other hand, Yelp is a bit scanter with the type of information you can provide. For example, you can add photos, and your customers can add photos too. But most people don't see the complete profile page when they search on Yelp, which leads us to a crucial point.
Yelp Vs. Google: Mobile Experience
The next thing to compare is the mobile-friendliness of each platform. Both Google My Business and Yelp have mobile apps. Both are pretty helpful for business owners too. You can do anything on the desktop version, so it's pretty convenient when you're on the go.
You can reply to reviews on both mobile apps during downtime and even update your business's information. However, inequality comes on the consumer side. While 63% of Google's organic search traffic comes from people using mobile devices, the Yelp mobile app is used much more frequently. The Yelp app has 37 million unique users every month.
There is a caveat here, too, though. Yelp has a bit of a genre issue regarding consumer usage. For the most part, Yelp can't seem to shake the perception that it is only for reading reviews of restaurants. Mainly, people open up their Yelp app when their stomachs start growling.
While you can find pretty much everything on Yelp and even devoted tabs for home and auto services, you will see the first tab for restaurants. This can be a bit of a drawback if your business is not a restaurant.
Yelp Vs. Google: Requesting Reviews
Asking for reviews is very important for your business's online reputation. Especially since 72% of consumers will leave a review if they are simply asked to. But in the age of the pandemic, you may be asking people for reviews online more than in person.
Google Business profile has a distinct advantage because you can ask consumers for reviews directly. You can create a shortlink to your review page and send it to all of your customers. Yelp not only discourages you from requesting reviews directly from customers, but it may violate their terms of service.
Google Business Profile Pros
Google My Business is generally considered the best review platform for most businesses, especially contractors. Because of its integration with the world's leading search engine, Google reviews benefits are immense:
SEO
Google Business Profile is essential if you want your business to be more visible on relevant searches. Of course, yelp listings will also appear on relevant searches. Still, Google prioritizes its own service and will likely list a Google Business Profile listing higher than a Yelp one.
Ease of Use
With Google, your customers won't have to create a special account to leave a review. Instead, they only need a Gmail account, which most people have anyway.
Trust
It's much harder to dispute a review on Google than it is on Yelp, so people tend to trust Google reviews more. Furthermore, Google reviews often appear at the top of search results, creating automatic trust.
Google Business Profile Cons
Although Google offers numerous appealing benefits, it also has a few drawbacks. While these should not discourage business owners from focusing on the platform, they should be monitored to avoid pitfalls:
Slow Posting
Google reviews take more time to post than Yelp reviews which are nearly instant.
Disputes
As we mentioned in the pros, Google reviews are hard to dispute – a definite con if you have an inaccurate review on your hands.
Yelp Pros
Yelp remains a proficient review platform for small businesses even if it lost some of its market share to Google and other platforms. While Yelp's domain authority allows it to show up high on search results for most queries, it's still lower than Google Map 3-Pack results. Take a look at some Yelp pros:
Great for Restaurants
If you are in the food business, you want to be present on Yelp.
Disputes
Yelp makes it much easier to dispute reviews and remove them if they deem them biased or inaccurate.
Reputation
Yelp has been around longer than Google Business Profile, so it has a large built-in audience.
Yelp Cons
Yelp has faced its share of criticisms in recent years, particularly regarding its increasingly strict review filters. Yelp's reputation has suffered because of its seemingly arbitrary decisions to terminate business listings. Take a look at some of the common criticisms:
Autonomy
Yelp reviews are filtered, which means they can reject a review if they determine that it violates their terms of service.
Listing Termination
Yelp can terminate your listing at any time and has been known to wield its power liberally.
Yelp vs. Google: Final Call
Yelp is where you want to focus your attention if you own a restaurant. However, if your business is not a restaurant, Google should be your emphasis. It helps more with SEO and is better for all businesses – not just restaurants.
Ultimately, however, you should aim to collect reviews on both platforms and showcase them on your primary website. The DataPins Local SEO plugin allows you to request reviews on Google and Yelp and display them directly on your website.