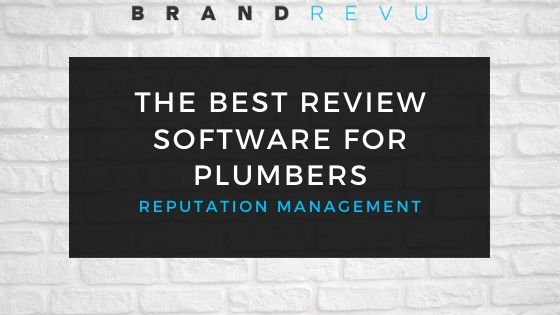 Looking for the best review software for plumbers? If you generate a good amount of positive customer reviews for your plumbing company then pat yourself on the back. You have already accomplished something that a lot of plumbing contractors struggle with – especially in the early days. But don't you think it's time for those reviews to start really working for you? After all, you have worked hard to provide stellar service to your customers to get those reviews in the first place. Don't let them gather dust on the shelf.
At DataPins, we are all about making your good reviews work for you. A lot of the time, plumbers' good reviews aren't really doing much for the continued success of their companies because they simply don't know how powerful reviews can be. Reviews can be leveraged in a number of ways to help you convert more customers, rank higher on local SEO searches, and establish the reputation of your company. Didn't think a simple review could do all that did you?
The Power of Plumbing Reviews
Before we even begin talking about how our review software for plumbers can help expand your business, we should talk about the inherent power of reviews. Reviews on their own already pack a powerful punch for your business even without the optimization we provide through our review software for plumbers. Take a look at what we mean:
Reviews Help Improve Businesses
Reviews are a rich source of market data. They can tell you how a customer perceived your service and in turn, provide invaluable data for improving upon them. For example, a review that sounds something like "Ace Plumbing was great. They came in, were neat, and fixed my leak. The only thing that was lacking was…" Now at first, you would probably read this and be a bit bummed that you didn't knock it out of the park. But reviews like these are actually treasure troves of valuable market data. They can show you how to grow a better brand and improve your business.
Reviews Improve Local SEO Ranking
Reviews make up 13% of the signals that help Google determine which results end up in the Local Pack. The more reviews you have for your business, the more Google will trust that you offer value to the community and rank your business in local searches. This is accelerated if your reviews are area-specific. Reviews are a form of organic SEO and they are on the rise in terms of importance in rankings.
Reviews Build Reputations
Reviews are a form of social proof. They let people who have never used your business to read the experiences of people who have. They show people that your business is worth their time and money. And the more positive reviews you have, the more people will flock to your business. Think of a restaurant you have seen in the past that had a line coming out the door and around the corner. You probably thought something along the lines of 'wow that place must be pretty good.' That's social proof and it influences the perceptions and buying habits of other people. Reviews can quickly help you establish a strong reputation in your community if managed properly.
These are just a few of the inherent benefits that customer reviews bring to the table. And all of the aforementioned attributes are great in and of themselves. But what we offer is a way to get even more out of your reviews. It's sort of like turbo boosting the reviews you already have…
Review Software for Plumbers
Through many experiences, effort, research, and hard work, we have come up with the best review software for plumbers here at Brand Revu. What makes our review software for plumbers the best? Just take a look:
Schema Markup
If you don't already know, schema markup is one of the many things that index your website on the Google algorithm. It is a code language spoken by Google and other platforms and it tells Google that your website has relevant information to what a user is searching for. Did you know that reviews can be turned into schema markup and microdata? With our software, it can. Our review software for plumbers turns your already valuable reviews into schema markup so that more people will be able to lay eyes on them when they do a local search for plumbers. It puts the good reviews you have worked so hard for on Front Street so to speak and makes them work for you.
Platform Consolidation
Our review software for plumbers will also help you earn more reviews. One of the biggest reasons why people choose not to leave a review even if they have been satisfied by the service is because the process is too complex or time-consuming. With our software, your customers will be able to easily leave a single review across a number of platforms. They will receive a single link where they can leave their review and like magic, it will be visible across multiple review platforms.
Local SEO
Our geolocation plugin can help you target the right local markets. With our review software for plumbers, you can get much more value out of the customer reviews that reference your general service area. We use these reviews to further optimize your service areas and correct any inaccurate location coding. All of this in turn helps you rank higher and more accurately in local searches.
Pin Service
Pins are a powerful tool in local SEO ranking as well. When you go out to a customer's home or place of business, all you need to do is take a picture of the job site, provide a brief description of the work and then upload it and out software goes to work adding geolocation and schema markup so that your pins turn into marketing tools instantly. Online Reputation – By broadcasting your reviews to more outlet platforms, our review software for plumbers can help you build your online reputation quickly than if you were to everything manually. We basically get your reviews, pins and content broadcasted to more parts of the internet than other software. It's a great way to establish, maintain, and even improve the online reputation of your plumbing business.
Growth for your Plumbing Business
One of the things that our clients love the most about our review software for plumbers is that it makes growing their business easier. It's like having your own personal digital marketing professional at your beck and call at all times. The fact that we emphasize local SEO is what sets our review software for plumbers apart from others. The experts agree, local SEO is essential to the growth of your brick and mortar business and it is only becoming more important.
All of the aspects of our review software for plumbers add up to more growth for your business. The aforementioned services are only the tip of the iceberg too. Our software can help make managing and even replying to reviews much easier for you. It is geared toward saving you time and automating as much of your marketing efforts as possible. Imagine taking steps toward growing your business while you sleep or while you are enjoying a weekend with your family. That's essentially what the Brand Revu software can do for you.
DataPins: Powerful & Professional Software
We developed our software for contractors of all kinds. We know the challenges you face as a plumbing contractor. We know that you may not have the marketing expertise you need to take your business to the next level. But we have thought of all that for you. Now you can have powerful, professional, and personalized software tailored to your needs as a plumber or plumbing contractor.
There is so much that our review software for plumbers can do for your business but it all starts by getting in touch with us. We would be glad to help get you started so get in touch with our friendly and professional tame today.