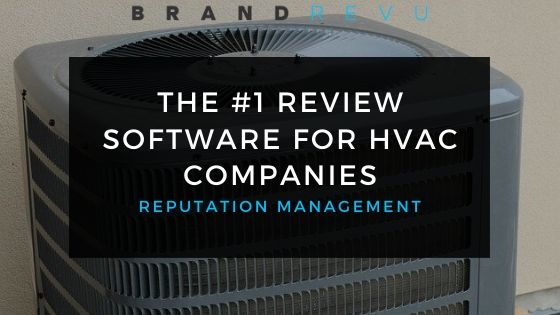 Looking for review software for HVAC contractors? DataPins is a great solution. This software provides jobsite pins that are populated onto your website based on the area served. When you combine this with DataPins's ability to help generate reviews from satisfied customers, you have the basis for the strongest local SEO campaign in your community. Reputation management for HVAC companies can change the game in 2020.
Taking your reputation into your own hands as an HVAC contractor is crucial. Reputation management is vital to growing your customer base and making sure that warm leads see your company when they perform local searches for HVAC contractors. Reviews are an integral part of reputation management. They can make or break your business. There is a host of stats to back up the assertion that customer reviews are integral to a company's success such as 71% of consumers won't make a purchasing decision until they have read some online reviews.
Rest assured, there are plenty more but you probably get the picture by now. If you already have a robust review page on your HVAC company's website then kudos to you. You have already tackled one of the most difficult parts of reputation management: procuring customer reviews. But how diversified are your reviews? Are you missing out on even more reviews? Are you able to reply to your negative reviews and your positive reviews?
Getting Reviews
Before you walk you have to learn how to crawl. If your business is in its infancy or you simply haven't been able to pay much attention to review acquisition then pay close attention to this section. There are lots of ways you can procure reviews for your HVAC business. But the first and most effective way is still through word of mouth requests. In a study conducted by Bright Local, 70% of surveyed consumers said that they would leave reviews if they simply asked. So don't be afraid to ask the people you service. After a routine air conditioner tune-up, ask your satisfied customer to leave a review on your website. After replacing a busted coil, tell your customer how much it would mean to your business if they left a review too. Here are a few more helpful tips for getting more customer reviews:
Make Sure your Team is Asking – You probably aren't able to be on every job your company gets. That's why it's important to train your team to ask for reviews when the job is done. Teach them the polite and non-intrusive ways to ask customers for reviews. You may even want to incentivize review acquisition for your team by starting a rewards program for your team (think gifts, gift cards, special recognition, etc.)
Email Campaigns – Email drip campaigns that target reviews are another way to get the reviews flowing. HubSpot is a useful resource to help launch email campaigns for acquiring reviews as well. But of course, if you have your customers' email addresses, you can have a templated email that you send out yourself in which you gently request a review. Make sure that your email has a link to where they can easily leave a review. Remember, if the process of leaving a review isn't easy for your customers, they will be less likely to do so.
Keep the Conversation Going – If you have a few reviews on your website but want more, be sure to respond to the ones you have. Bright Local has another telling statistic that we can all learn from when they report that 89% of consumers actually seek out companies that reply to customer reviews. Replying to reviews (we will get into more detail about this a bit later) is a great way to show customers that you care about their experience. And new customers who use your business because they see that you reply to your reviews are much more inclined to leave a review themselves.
Why HVAC Companies Need Review Software
Garnering a good reputation is a dual-pronged effort. Of course, it takes quality service in the field. In fact, that is the most important part. If you offer unreliable or shoddy service, no amount of digital marketing will help your business succeed in the long-run. But the second part of establishing a strong reputation that will keep your business going strong for years to come is in the digital front. Strong digital marketing efforts are a crucial part of building and maintaining a good reputation as an HVAC contractor.
This is why review software for HVAC companies becomes so important – especially as your company grows. Take a look at what we mean:
Review Software Saves Time – Review software can consolidate all the various platforms where you might have customer reviews. Trying to reply to, approve, and go over reviews across three, four, or five different platforms can be very time-consuming. It can also lead to bad customer experience. As an HVAC contractor, your time is precious. Solid review software will consolidate all your review data into one inbox, saving you a ton of time and making the customer experience better.
Review Software Helps with Local SEO – There are a lot of online businesses that don't have to worry about local SEO because they aren't targeting a single specific area. But as an HVAC contractor, you run a local business and you need to show up on local searches. In a Smart Insights infographic, we see that the review signal accounts for 13% of organic local search engine results. That's a big chunk of the SERP pie. Review software will help you manage your good reviews and prioritize ones that make mention of your locality which will then in turn help Google rank your website when someone does a local search.
Review Software Helps with Reputation – It all ties back to building a solid reputation. Review software will help you gather reviews so that you have a strong base of customer feedback to springboard from. By making it easier for you to filter reviews and reply to them, review software can help you manage your reputation more efficiently.
What is the Best Review Software for HVAC Companies?
Here at Brand Revu, we have the best review software for HVAC companies. Our review software emphasizes local SEO because local SEO is the key to growing your local business. What makes us the best? Take a look:
Diversifying your Review Platforms – It's great to have your business profile on Google My Business, but that shouldn't be your sole focus. When leads see that your company has reviews across a broad range of platforms like Angie's List, the Better Business Bureau, Yelp, and others, it establishes your company as a trustworthy authority. Our software makes it easy to diversify your review platform and get reviews on more websites that will point potential customers right back to your own.
Response to Reviews – Ideally, you want to be able to respond to all of your reviews both negative and positive. But as a full-time HVAC contractor, you likely don't have the time for that. But our software makes it easy to leave a reply to reviews across all platforms, increasing customer interaction, and trust in your brand. Our response software will help you attract and convert more customers.
Review Widgets – It's great to have reviews on a bunch of different websites but you should have a centralized location on your website where your visitors will be able to see all those reviews in one place. That's where our Brand Revu Widget comes into play. We place a sleek, widget feed on your website that will display all your glowing reviews so potential customers can plainly see. The way the reviews are displayed is almost as important as what the reviews say so we make sure that our widget is smooth, attractive and professional-looking.
Review Management – Believe it or not, 5-star reviews are no longer the ideal. When a customer sees that you have a perfect aggregate rating, it arouses suspicion of foul play in the mind of a consumer. Our review software will help you manage your aggregate review scores so that they stay in the perfect range of about 4.2-4.9.
DataPins software can help with all-around reputation management. We take your business very seriously and provide a customized package so you can overcome the challenges that your particular faces every day.  At the end of the day, HVAC contractors turn to us over other reputation management software developers because we put a special emphasis on local SEO. We know how important local SEO is to the growth of your company, and we optimize our software for it. To find out more, get in touch with us.