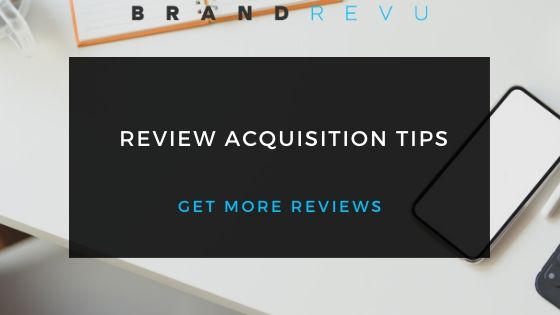 Getting customers to leave reviews of your business has never been more important to success. In an age where people are turning towards self-guided business research, customer reviews shed the most telling light on your business. And potential customers are paying attention to customer reviews. They value the input of someone who has experienced your product or service over your own advertising efforts and even the endorsements of other professionals in the field.
To put an exact number on it, RevLocal states that 91% of people trust online. That's a huge portion of the consumer pool. Furthermore, 86% of consumers report that online reviews affect their purchasing decisions.
Have we hammered the point home enough? To reiterate; reviews are important. Vastly important! But how do you get more reviews for your business? As mentioned a bit earlier, satisfied customers are actually less likely to leave a good review than customers who have something bad to say about your business. Galvanizing your happy customers into a small army of marketing outlets takes some practice and discipline. And we have gathered some of the best tips for getting more business reviews from your customers to help you get started.
1) Cast a Wide Net
Reviews are still a numbers game. The more business profiles you have set up the more people will see reviews for your business. If you have a Google My Business profile set up, that's a great start. But don't rest on your laurels. Take an hour or two to set up profiles on multiple review websites like Yelp, Better Business Bureau, Trustpilot, Citysearch, and other such websites. If a consumer sees your business across multiple review platforms, they will feel more comfortable about deciding on your product or service. Remember, transparency is important.
2) The Good Ole' Fashioned Way
The most effective method for acquiring reviews is still to simply ask. As we read in this BrightLocal article, 68% of consumers will leave a review if they have been asked. But it's not good enough to ask every patron who walks through your doors. These days you have to personalize your requests. Try sending a personalized video to your patrons, thanking them for their patronage, and asking them to leave a review. This is a good way to build rapport with your customers. It will also make them more inclined to comply with your request since they will be able to put a face to the request – it's easy to simply delete an email asking for a review.
3) Specify Your Requests
People are more likely to leave a review for a specific transaction or interaction they recently had with your business as opposed to a general review. For example, if a repeat customer has just bought some new merchandise from your online store, hit them with a review request of their last purchase. Or if someone is using your service online, send them a follow-up email with a link to leave a review. It basically boils down to this principle: people will be more inclined to review a specific experience than a general impression. You won't get many results if you simply say "hey, what do you think of my business?" You will, however, incentivize your customers into leaving a review of you to say, "how did you like that shirt you bought from us?"
4) Respond to Reviews
Another great way to get more reviews is to perpetuate the conversation. This means responding to your customers' reviews of your business. In another statistic provided by BrightLocal, we learn that 89% of consumers look for and read a business's response to customer reviews. Responding to reviews shows that you care about the customer experience and that you are willing to engage. This will make current customers more likely to leave another review and show potential customers that their future input will be valued. People really relish hearing from the owner of a business that they like. Creating a culture of engagement and interaction can work wonders for your review prospects.
5) Stay Human
People are a lot more empathetic than you probably think – especially if they like your business. Therefore, reminding your customers that reviews are important to the success of small and local businesses is an important way to get more reviews. A lot of customers simply don't think their opinions matter. Letting them know that a simple review would help out a great deal is a great way to inspire empathy and get your customers to leave a review. This is the human approach to getting more reviews. It is your opportunity to remind your customers that there is a person behind the business. Also, let your customers know that their review helps other customers learn what they liked and even disliked about your business.
6) Make the Review Process Easy
No one wants to take a lot of time out of their busy schedule to leave a review. That's why, if you intend to get more reviews, you have to make the process as easy as possible for them. Provide them with direct links in an email drip campaign. Place QR codes around your place of business and on your products that lead directly to a review submission page so your customers can simply scan and leave a review. Another great way to make it easy for your customers is to simply write part of the review for them. When you feel you have a happy customer on your hands, be sure you have a positive review template that they can either just sign off on or add a few words to.
7) Encourage Reviews
Don't incentivize reviews because it's against the guidelines and could lead to your listing being suspended. However, you can encourage people to leave reviews by making the process extremely simple. By using automatic SMS and email reminders from DataPins, you can ensure they don't forget to leave a review, and that they can do so with just a couple of clicks. Most consumers are open to leave a review but the process is too hard and takes too much time. Make sure that's not their excuse by making it easy.
8) Employee Rewards
Getting more reviews is a team effort. If you try to get reviews on your own, you won't have very good results. That's why it's a good idea to train your employees to gently encourage the customers they interact with to leave reviews. You can even incentivize your employees as well. Start an employee rewards program in which employees are given a gift or recognition for every review they garner.
9) Automate Review Requests
Lastly, one of the easiest and most effective ways to get more reviews is to automate the process. Personal requests, face-to-face interaction, and even video requests are great but sometimes you simply won't have the time. Review acquisition services like HubSpot are a great way to launch email campaigns specifically to get more reviews and take the task out of your busy hands. It lacks the personal touch that is typically more effective, but it's an effortless way to cast a wider net
Success Through Reviews
Consumers trust online reviews because they think like consumers. They know that as a consumer, they are much less likely to leave a favorable review for a business than they are to leave a negative review. So if they see a business that has a lot of positive reviews online, it is a signal to them that the business is doing something really right.
People also trust businesses with a lot of online reviews (negative or positive) because it signifies transparency. While you don't want to rack up a bunch of negative reviews, you're not going to be able to please everyone. Most consumers understand that and empathize. But it is far worse to have no reviews. The bottom line is that most people won't even give your business the time of day if they see you have no customer reviews. It tells them that you are either unprofessional, have something to hide, or are simply not keeping up with the times.
Customer reviews can make or break your business in the modern market. But you have to start with getting any kind of reviews you can. It's akin to that modern financial adage that says "bad credit is worse than no credit at all."
Getting started is often the most difficult part. If you are ready to reach new heights of success through reviews, reputation management, organic web ranking, and other forms of digital marketing, we can help. We are DataPins, and we can not only help you get more reviews but turn those reviews into a brand that people know and trust.  We offer a number of services for your business and can personalize your marketing efforts. So give us a call and find out how we can grow your business.