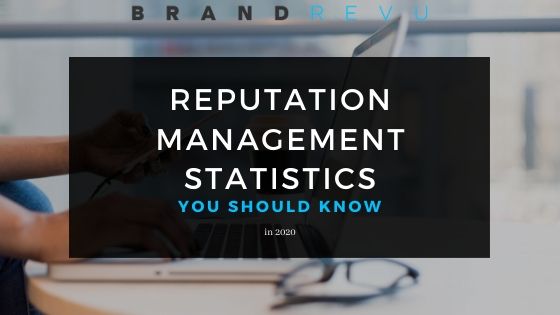 Reputation management statistics. Are they reliable? We know that fake online reviews statistics exist. Anyone can just make up a number and publish it as empirical data. DataPins has collected a series of stats that we find the most reliable so that you, as a customer, can understand the importance of online reputation management software for SMBs.
Reputation management is an indelible part of the business review process. Your customers' reviews play a part in how others perceive your business. That can be a scary prospect for many business owners. However, when you take control of your brand's reputation, you can produce terrific results.
7 Statistics for Reputation Management
1) Negative Reviews are Massively Impactful
The impact of a single negative review can't be understated. In a survey conducted by Review Tracker, it was found that 94% of respondents reported that a negative review has kept them from patronizing a business in the past. Understanding how much impact a negative review can have is the first step toward traversing the pitfalls of reputation management.

2) Replying to Reviews is Important
Many business owners think their job is done when a customer has left a positive review of their goods or services. But to leave a good review alone is to leave a great opportunity on the table. That's because 71% of consumers are inclined to return to a business that has responded to their reviews. And so many business owners are failing to do so.
A whopping 63% of survey responders say that a business has never left a reply on their reviews. Replying to reviews lets a customer know that you value their input and experience with you. It is also a great way to engage and build up a rapport with your customers – critical for reputation management.

3) Replying to Negative Reviews is Also Important
What do you do with negative reviews? Do you leave them alone and hope they get buried by positive reviews? How do you turn a negative review into a positive business perception? A Cornell University study suggests that one way to do this is to respond to negative reviews.
When you own up to a perceived flaw in your business, you show customers that you care about providing good service. Be sure to reply to negative reviews kindly, and seek ways to improve your service.

4) Business Ratings Matter
Google My Business profiles are important. And your ratings could tell the tale of your success. Tons of statistics point to the importance of your business rating. For instance, only 53% of consumers would consider trusting a business with less than a 4-star rating.
And if your business is under a 5-star rating, you could lose up to 12% of your potential customer base. Doing what it takes to achieve and maintain a high business rating can help propel your business to success.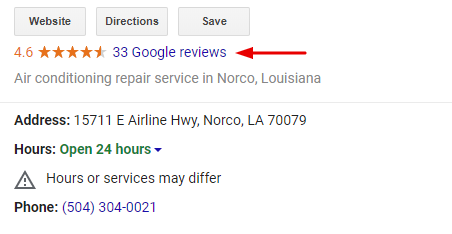 5) Review Content is A Commodity
What is review content? Review content is literally what a customer has written in a review about your business – and it is almost as precious as gold. People trust what other consumers have to say about your business.
In a Forrester study, it was found that review content actually ranks higher than content created by a business or organization. This suggests that people are more willing to believe what others have to say about your business than what you have to say about it.

6) Keeping Current Reviews is Vital
A staggering 85% of consumers don't rely on reviews that are more than three months old. Reputation management is an ongoing job, but this statistic drives the point home. If you are not cultivating reviews from your customers and not making it easy for them to do so, you are falling behind.
Consumers are very "what have you done for me lately?" oriented, and you need to keep current reviews to draw new customers to your business.

7) Reputation Management is Important for Staffing
On the employee side, it is clear to see that reputation is essential to keeping a robust staff. As we read in another Review Trackers article, 84% of job hunters consider a company's reputation critical to which jobs they apply for.
If your company's reputation is terrible, you may have the bottom-of-the-barrel choices in terms of applicants, perpetuating sub-par service and reputation.

Applying Stats to The Real World
Think about it; just one bad review can negatively affect how potential customers perceive your business. And in the digital age, that is a surefire blow to your finances. But it's not all bad news for business owners.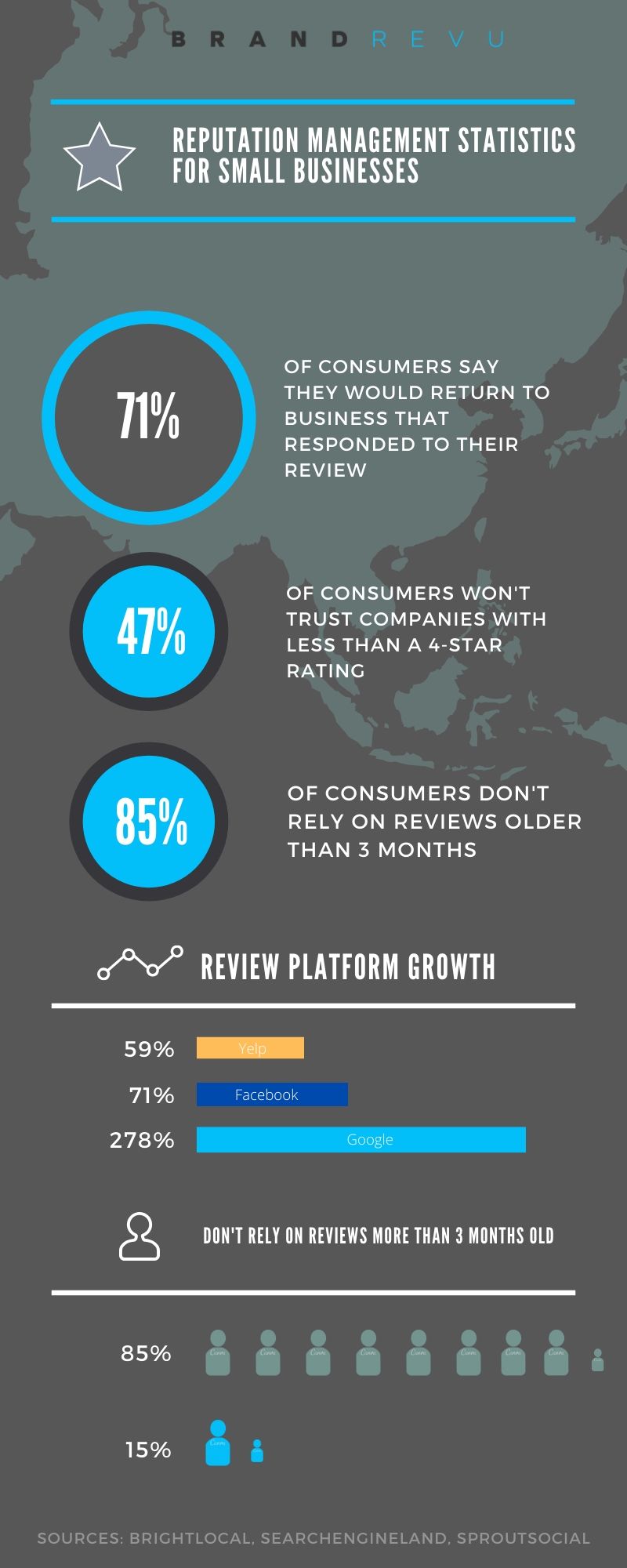 Taking Control of Your Reputation
You shouldn't be frightened at the thought of reputation management. In fact, you should be heartened by it. Because it is so easy for people to get a gauge on your business with search engines and online reviews, you have a golden opportunity to take control of your business's reputation and mold the narrative in your favor.
Time is Money
We understand the challenges and time constraints of the modern business owner. In times like these, it is more important than ever to manage your business's reputation successfully. But it is a laborious and time-consuming process. We are here to help.
Here at DataPins, we specialize in leveraging your business's customer reviews toward more sales. We offer review management for agencies and small businesses. Our software provides geolocation coding and reputation management services.
Be Proactive
It can be easy to get bogged down in these reputation management statistics but don't let the numbers get you down. Be proactive. Reply to reviews, both good and bad, stay engaged with your current customer base, and always be on the lookout for ways you can improve your products and services. There is always something that can be done to improve your company's reputation, so stay vigilant.
And as always, we can help manage your company's reputation, improve it, and provide you with a host of services to help your site rank higher on SERPs.