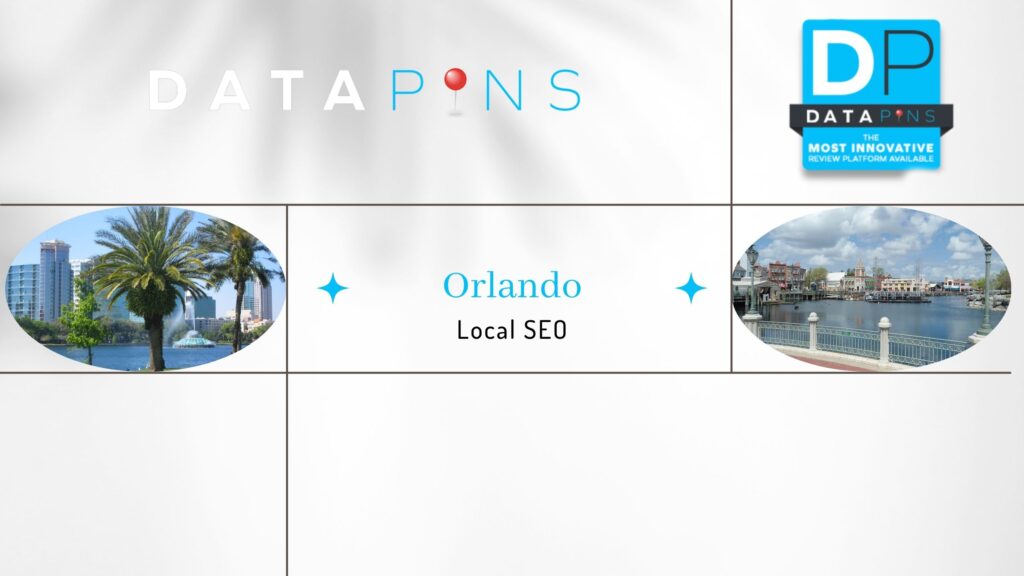 DataPins provides Orlando Local SEO Services for a reasonable monthly fee. Using DataPins, you can boost your local rankings for your website and Google My Business listing in Orlando and close by zip codes. Also, you can enhance your local reputation by increasing reviews and social proof.
SEO Services in Orlando
DataPins is known as a top-rated SEO tool and app for Orlando businesses. However, DataPins also provides SEO services that complement the DataPins tool. We offer on-page SEO, local optimization, off-page SEO, and custom website design for Orlando, FL companies.
On-Page SEO
On-Page SEO is an integral part of local rankings, and DataPins incorporates this into our SEO services. Additionally, each job is an opportunity to increase on-page SEO by publishing captions, mini-maps, and images. The DataPins tool is intelligent enough to route your pins by job category and location so that your pages populate with relevant and unique content.
Local Optimization
Local SEO is the foundation of DataPins. The tool automatically creates schema markup with latitude and longitude data to wrap local signals. In addition, DataPins sends automated review requests to increase feedback on your Google My Business listing and Facebook Business Pages. Our Local team also optimizes your Google Business Profile for rankings.
Off-Page SEO
Off-site SEO helps enhance on-site work. As a result, DataPins creates NAP citations for businesses in Orlando, Florida. Spreading your contact information across the web makes strong local signals to improve SEO. Finally, DataPins helps increase review frequency and build your brand.
Custom Website Design
The DataPins design team creates a customized website with our integrated DataPins plugin. Your website will showcase your company logo, brand, and photos of your team and staff (or whatever you want). We also insert CTAs (calls to action) that boost conversion rates online. Finally, our review slider shows visitors your Google & Facebook reviews.

Does Orlando SEO Work in 2023?
When you use the right SEO company in Orlando, the results are great with DataPins. The app improves your on-page SEO, website design, off-site SEO, and local optimization. Let's outline some of the more intricate SEO tasks involved with these overarching categories.
Link Building
Links remain integral to Google's algorithm, but you must be careful with your strategy. At DataPins, we believe in white-hat link building. We create content assets that naturally earn links from relevant websites. But, of course, we also make nofollow links from directories and social profiles.
An example of a white-hat link for an Orlando business would be the East Orlando Chamber of Commerce. Other associations within your industry can also prove helpful for link building. Networking with other companies offline is a great way to build future online relationships.
Google My Business Optimization
Local queries like slab leak repair orlando will produce the Google Map 3-Pack. The 3-Pack is a SERP feature that showcases the top three Google Business Profiles based on proximity, relevance, and prominence. The order of these results depends in part on the searcher's location.
Optimizing your profile to rank in the Map 3-Pack requires a completed Google My Business listing. The first step is to claim and verify your listing via postcard. Google sends a postcard to your address with a unique code that activates your listing. From there, we simply complete the profile.
There are additional ways to enhance your Google Maps listing too. For example, entering your website URL into the website section transfers your authority from your website to your listing. If you have a good backlink profile on your website, you can expect a GMB rankings boost.
Keyword Research
Targeting the correct keywords is a foundational element to SEO success. As an Orlando business, you have to understand the value of various keywords and phrases. Keyword research dictates the content for city pages, service pages, and informational blog posts. Consider these terms:
orlando plumbing repair
pest control orlando
water damage orlando
orlando home renovation
Of course, your industry will dictate the scope of your keyword research. For example, a pest control company will evaluate different terms than an electrician and vice versa. However, DataPins is equally effective for all industries and helps you dominate keyword rankings with long-tail phrases.
Content Marketing
You can only rank pages if you publish high-quality content that targets your keywords. Content is the foundation of on-page SEO and link building. Remember that everything you post on your company website is an evergreen asset. 3rd parties cannot remove your website content.
Your content strategy depends on the type of page you publish. For example, a service page about air conditioning repair will target a term like ac repair orlando. Conversely, a blog post may target a phrase like signs your air conditioner needs to be replaced.
Inquire About Local SEO Services