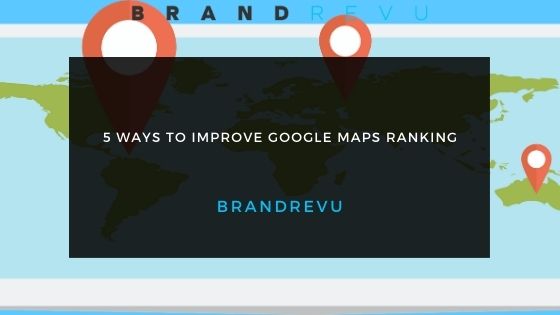 So you want to improve Google Maps rankings in 2022? Join the other thousands of small businesses who share the same new year's resolution.
Case in point: Google Maps SEO. Google Maps has over 154 million users. It is by far the most popular map and navigation platform in use today. You, the reader, have probably used Google Maps at least once in the last week. 
But Google Maps isn't just about finding your way from point A to point B. In other words, it's not only a navigation application. Notable businesses are highlighted in Google Maps, as are landmarks and other places of note. People use Google Maps to find a company in their area. 86% of consumers have used Google Maps to find local businesses.
Google Maps has become much more than a navigation app. And as people are using it for more consumer-oriented purposes, another thing is becoming clear: local businesses need to be visible on Google Maps.
If you want to get more eyes on your business, generate more leads, and have the best odds of converting those leads, your business needs to have a substantial presence on Google Maps. Savvy business owners have realized this and have begun making efforts to improve their Google Maps Ranking.
What is Google Maps Ranking?
Maps rankings appear within a box on top of standard search results called the Local 3-Pack. Like a typical Google search, Google Maps turns up a list of results based on the search query. For example, if someone types in "McDonald's" in Google Maps and they live in the Charlotte area, Google Maps will come up with a list of McDonald's restaurant locations nearest to them in Charlotte.
But Google Maps ranking works in another way. If you start from the standard Google website and type in something like "roofers near me," Google will most likely display a "Google Maps" map with three roofing businesses listed on it. The map gauges the user's proximity, and the three map results will be the highest-ranking local roofers in the area.
This map is known as the Google Maps local 3-pack, and it is the holy grail of local SEO. Consider the following statistic: the local 3 pack accounts for over 47% of clicks on relevant searches. That's nearly half of all clicks on relevant searches.
At this point, we have indeed made it abundantly clear how vital Google Maps Ranking is to local SEO. But how do you rank higher on Google Maps? People often ask us, "how do I get my ranking on Google Maps?" so today, we thought we'd share some of the hottest tips for ranking and upping your ranking on Google Maps in 2022.
1) Leverage Service Categories
Many people list their business on Google My Business and don't optimize it for local SEO. But your GMB listing is a gold mine just waiting to be tapped. One of the most effective ways to show up on more Google Map searches is by adding subcategories for your business.
For example, your main category listing on GMB would be plumbing, rooter service, or maybe even home services if you are a plumber. But adding subcategories based on the services you offer can help you break into other competitive markets. Using the same plumber example, you could add subcategories like drain cleaning, water heater repair, sink installation, or whatever services you offer. Listing these services as subcategories on your GMB page will help you rank on more searches.
2) Build Backlinks
Building a strong backlink portfolio was essential for SEO in 2020, and it is undoubtedly still important in 2022. Having a plethora of quality backlinks from high authority sites will increase your Google and Google Maps ranking. It is one of the most important criteria the Google algorithm uses. So continue to petition with local professional organizations, chambers of commerce, industry newsletter distributors, and high-profile bloggers to embed your links on their web pages. 
3) Utilize Structured Content
In technical terms, structured content organizes content for search engines. It is readable for humans, but it presents a strong signal to Google web crawlers. And Google Maps loves structured content that shows the user everything they need to know about your business in a neat, compact, rich snippet. Structured content can manifest as rich snippets or schema markup. No matter what it's called, having it on your website will make it easier for Google Maps to rank you and will most likely boost your ranking as well. 
4) Clean Up NAP Citations
NAP refers to your business name, address, and phone number listed across various online platforms. Your SEO, in general, is severely hampered when your NAP listings are inconsistent. Google doesn't like to present confusing information to its users, so they drop listings with inconsistent NAP's like a hot rock. You have to make sure that your business name, address, and phone number are the same on your GMB page, your website, your Facebook page, your Yelp profile, and anywhere else you have an online presence if you are to have any hope of ranking on Google Maps.
5) Purchase DataPins
You may call it shameless self-promotion, but DataPins is the fastest way to improve map rankings in 2022. Better yet, local businesses can rank in multiple cities outside of their office zip code. Local ranking factors include proximity, prominence, and relevance, all of which DataPins influences with minimal effort from its users. Not only does it serve as the top local SEO software on the market, but no other reputation management tool can also compare to its endless functionality.
Contact DataPins
Google Maps is a great place to start improving your rankings, but it's just the beginning. In the grand scope of local SEO, it is but a facet. Here at DataPins, we give you the tools you need to dominate all rankings with reputation and review software. Learn more about how our intuitive software can help you rank higher across all platforms right now.