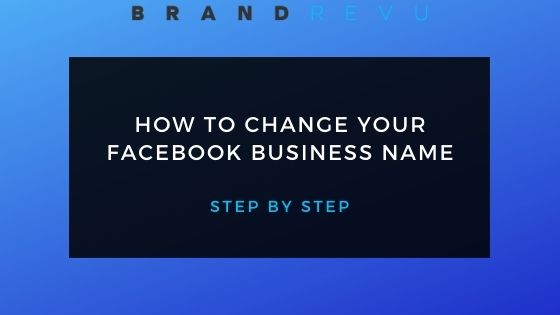 Ensuring your name, address, and phone number (NAP) information is consistent across all business listing, online reviews, and social media platforms is a crucial part of the best SEO practices and online reputation management. And while it may seem like a simple task, many DIY marketers and even some professionals still overlook it.
So in today's post, DataPins will talk about why it's essential to know how to change your Facebook business name when you need to and, of course, how to do it.
Can you Change your Facebook Business Page Name?
Absolutely. You can change your Facebook business page name any time (although the goal is not to have to do this often at all) so long as you are signed in as a page admin.
Why Should you Change your Facebook Business Name?
The truth is you shouldn't if you don't have to. But what you should do is take some time to view your website and all other online business profiles you have registered for. If your business's name is not consistent across all those platforms, you need to know how to edit them to make them 100% consistent.
For example, if your business name is "Franklin & Sons Plumbing, LLC" on your official website but your Facebook page displays the name your customers often call you "Frankie & Sons", that's a problem. Having consistent branding is a benefit to your company and provides a better user experience to your customers.
Besides, even slight name variations like the one we used in the example above can confuse customers and cause them to search for the services they need elsewhere.
Having consistent branding will also make your business appear more professional to prospective customers.
How Do I Change my Facebook Business Page Name in 2020?
You may have read a guide like this five years ago, but Facebook formatting changes. It's best to stay abreast of the latest changes and make sure you know how to change your Facebook page at any time. The process is relatively simple:
First, log into your business's Facebook account. Once you are in, you will see a blue arrow in the top right-hand corner of the page. Click it to open a drop-down menu. In this menu, you will see an option for "manage pages." Click on this option.
You will then be navigated to a "page management" page. You should see your business listing here. Click it.
When you are on your business page, you will see the three dots under the page's main banner. Click those three dots to open the menu. In the menu, you will see an option for "edit page info." Click on this option.
Once you are on the "edit page info" page, scroll to the bottom. You will see an option for "see all information." Click this option, and you will be taken to a page where you can edit your business name info.
What if this Doesn't Work?
If you cannot access any of the menu options and pages we described in the guide above, it probably means you are not an admin for the page. You will need to be an admin to make any name or business information changes to the page. To become an admin, ask the current admin to change your role.
Getting admin status on your Facebook business page is a bit more involved. Still, you should be registered as the admin if you intend to manage your page. If you are unsure who is the current admin of your page, do the following:
Sign in to your Facebook page and click the "Settings" option at the top right end of the page.
You will see a "Page Roles" section in the menu that drops down in the left column. Click on the "Page Roles" link.
You will then be navigated to a page where you will see a list of page roles and occupy each of those roles associated with your Facebook business page.
Get Professional Reputation Management Review Software
Please make no mistake about it; consistent branding is a massive part of online reputation management. And no one knows more about online reputation management than we do here at DataPins. Not only are we reputation management experts, but we can help you implement our innovative software to make vital tasks easy.
Get better local map pack ranking, get more reviews, and make it easier to manage your online presence across all platforms with DataPins. Give us a call for better and easier reputation management today.