Fantastic Service…Meager Growth
Molberg Plumbing LLC sprung into 2020 as about the most beloved plumbing company you'd ever meet. With a healthy collection of glowing 5-star reviews and an impeccable standard of service, their future seemed very bright indeed. Only, owners Jordan and Cory Molberg weren't quite reaching the volume of traffic they craved as a developing brand. After two years of serving the Fort Worth, TX community, it was time for a change in their marketing strategy.
That's when the Molberg's approached our team. In late Q1 2020, they signed on to incorporate our pins and review-gathering system on their newly launched website. In other words, it was time to pull out all the stops and create sustainable growth for their business.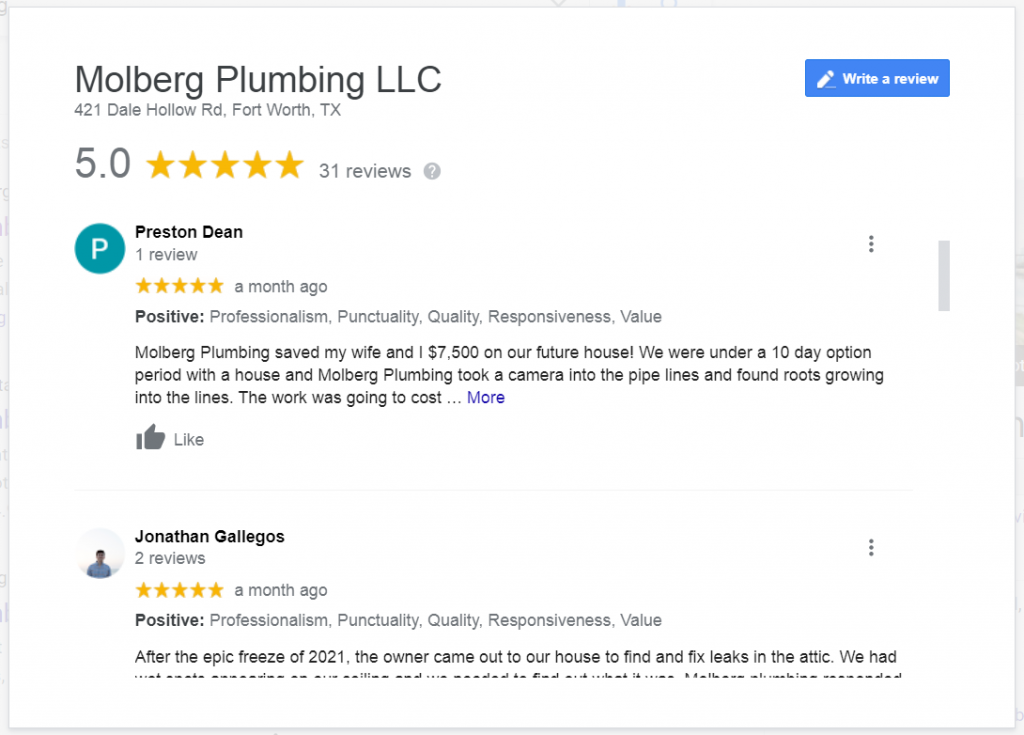 Marketing Objectives with DP
Stalled growth is a challenge countless plumbing professionals (and other service industries) face in the first few years of development. That's about the time that many companies collide against the bulk of more established brands, most with deeper war chests and a propensity for dumping thousands of dollars into Google Ads. Molberg Plumbing LLC certainly busted out of 2018-19 with all the gusto of a healthy startup.
But the time had come to start generating plumbing leads at a faster (and sustainable) pace. So we were saddled with three major challenges:
Challenge #1: Generating Higher Traffic Volume
No surprise here! This growing company needed a steady influx of visitors to their website to ensure uninterrupted revenue. The Molberg's eagerly wished to avoid spending thousands of dollars in search ads if possible, so the brunt of their leads needed to originate through organic channels.
Challenge #2: Showcasing an Ever-Expanding Suite of Services
Our blossoming client offered much more than your average pipe master. Their array of solutions included a growing remodeling portfolio, premium water heater services, and advanced inspection technology. We needed to deliver a means of effectively showcasing more than twenty unique service offerings.
Challenge #3: Streamlining the Collection of Plumbing Reviews
Contractors live or die by their reviews. While Molberg Plumbing had already assembled an excellent number of recommendations from local homeowners, they needed a practical system for collecting them consistently in the future. Handwritten "Thank You!" notes just weren't going to cut it.
Revving the Digital Growth Engine
With their website still fresh off the press, Molberg Plumbing wanted a convenient way to draw more attention to their service pages. Our pin system delivered a convenient platform for infusing new and engaging content into the site on a regular basis. Side note: If you're unfamiliar with the core function of DataPins, you can learn what pins are all about here!
Project descriptions proved to be the perfect means of targeting new keywords while simultaneously educating prospective clients about the company's services. Even now, the company continues to earn listings in various phrases and synonymous keywords. All those impressions and clicks add up!
Our geo-location tagging system also embedded real-world coordinates into every pin. Google Maps eats up this data, so we encouraged the Molberg team to post to the system as consistently as possible. As a result, they have a wealth of rich data popping up all over the map.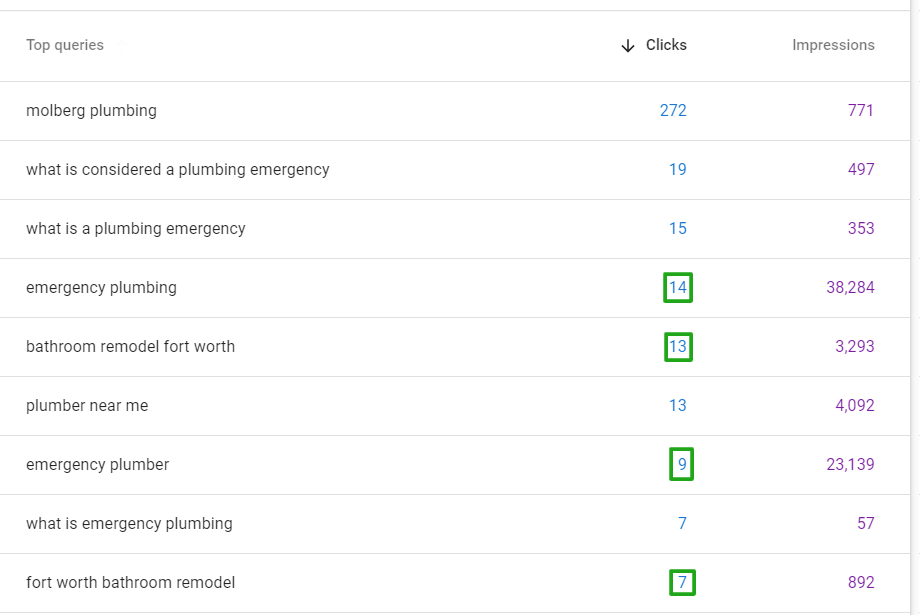 Page…Picture…Perfect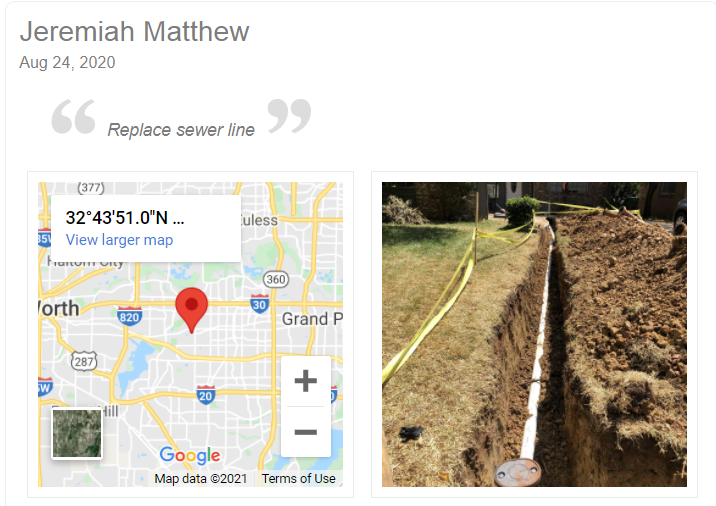 Once those eager visitors started flowing into the website, our team wanted to make sure a healthy smorgasbord of content was ready to greet them! Besides the keyword-rich descriptions in each post, we also equipped the Molberg team with a photo-sharing tool to showcase their work in the field. Every time a plumber added a pin after a completed job, photos of their work would be uploaded to the website (to their respective service and city pages).
People digest photographic information more efficiently than the written word. Now Molberg Plumbing's pin system creates a flourishing gallery of real-world projects. Prospective clients can go to any page on their website and browse relevant projects. Looking for a plumber in Arlington, TX for a sewer line replacement? Well, why not browse through an assortment of recent work the Molberg team has completed in your area? And look! There's a sewer line replacement project they finished a few months back…
You're a Sky Full of 5-Stars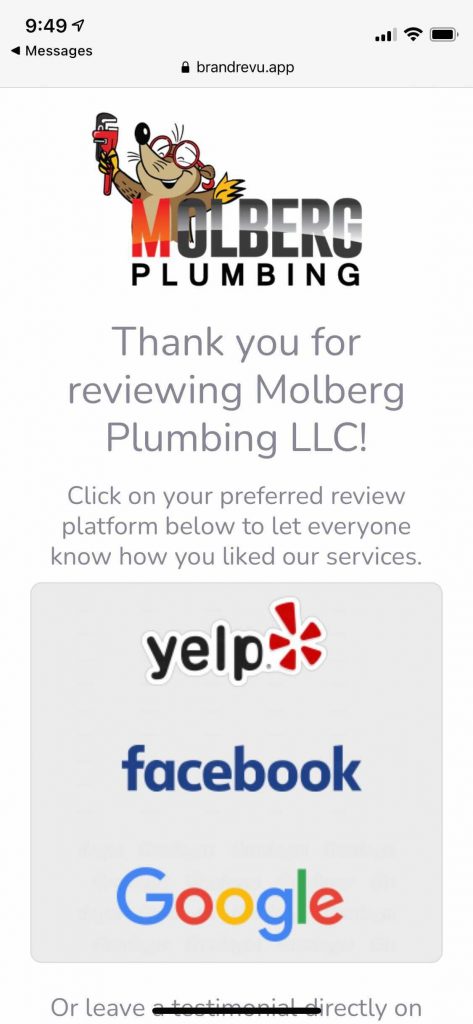 When it comes to asking for customer feedback, success ultimately comes down to convenience and timing. Not only did the request process need to accommodate the client's preferred platform, the means of sending out those requests also had to fit in with the plumbing team's natural rhythm. Put simply:
If filling out the reviews was too difficult or time-consuming: FAIL.
If asking for reviews took too much time out of a plumber's schedule: FAIL.
The Molberg team found their sweet spot, using our automated review-request feature within the pin app. Our DataPins system fuses job showcasing with a built in review request function. Every time a Molberg Plumbing added a pin after a job well done, they simultaneously (and automatically) sent the client a text with a simple review link. The plumbers didn't have to break into long, time-consuming dialogues with the customers to try to earn reviews, and the Molbergs' collection started ballooning faster than ever before!
And that customer feedback came from a variety of sources, not just Google! Yelp, Facebook, and even data-rich, self-hosted reviews started pouring in from across the metroplex. Of course, that consistent 5-star rating only encourages more homeowners and businesses to try Molberg Plumbing in the future.
Results
One year after the beginning of our project, Molberg Plumbing's website data continues to show steady growth in exposure and consumer activity.
Analytics and Google My Business data show a very healthy organic discovery rate between 84 and 87 percent.
The company tripled their review portfolio, securing stronger numbers in Facebook, Yelp, and Google Reviews.
Pins continue to refresh their service pages with new content.
All in all, the project has created a wonderful surge of revenue for the plumbing company! Best of all: they have a simple model for continued profit over the next few years as their domain matures and brand recognition expands.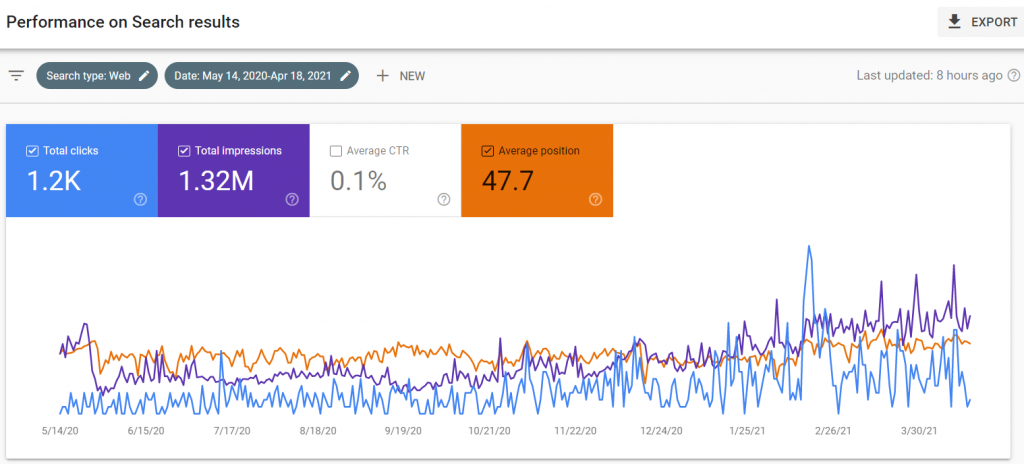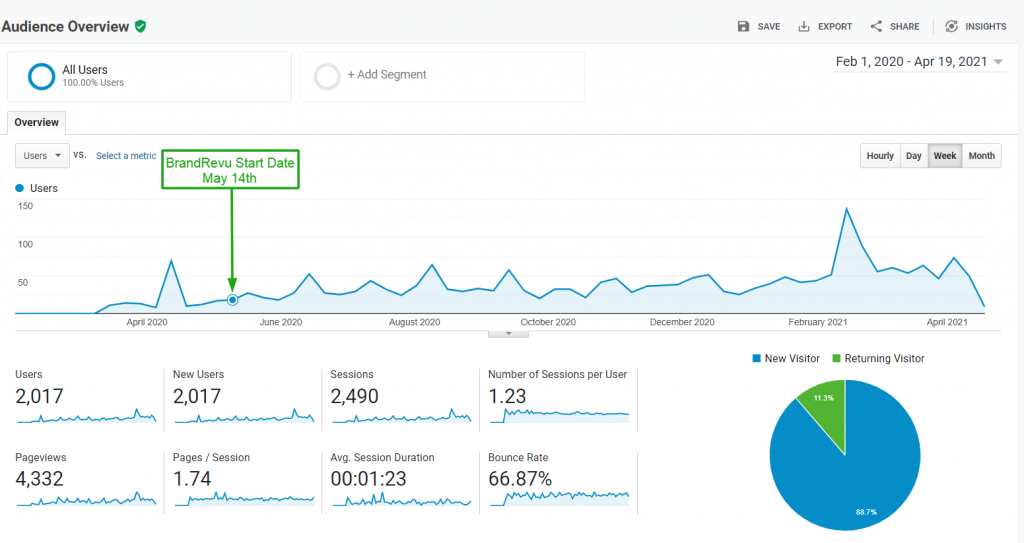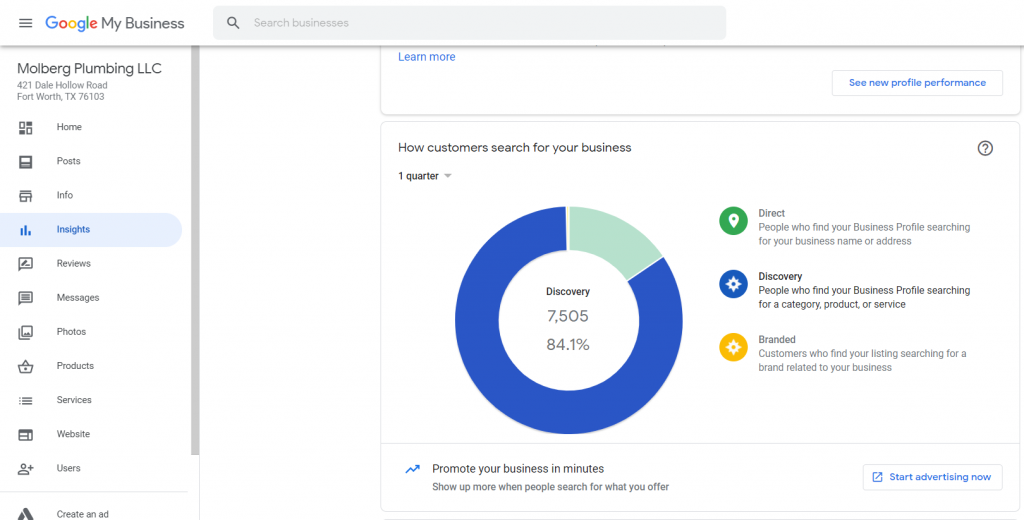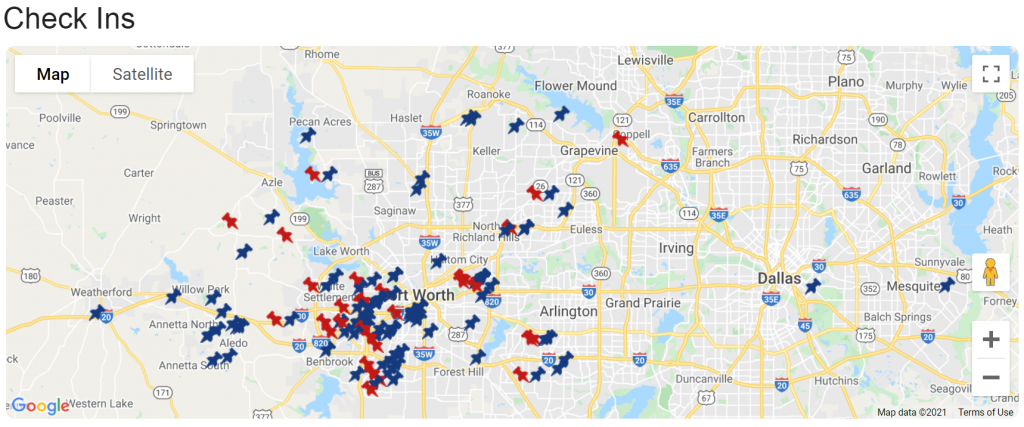 Closing Thoughts
As with all marketing solutions, sustainability and scalability drive the ultimate success behind our DataPins software. It's easy to learn and implement into your day-to-day operations. If you're looking for ways to enhance your incoming website traffic and reviews, consider our Pin tool for your business!