DataPins provides Bozeman Local SEO services for a reasonable monthly fee. Using DataPins Local SEO tool, Bozeman, MT businesses can rank on Google in nearby cities, towns, and unincorporated areas. Furthermore, DataPins publishes social proof on your company website, increasing conversions and growing your customer base.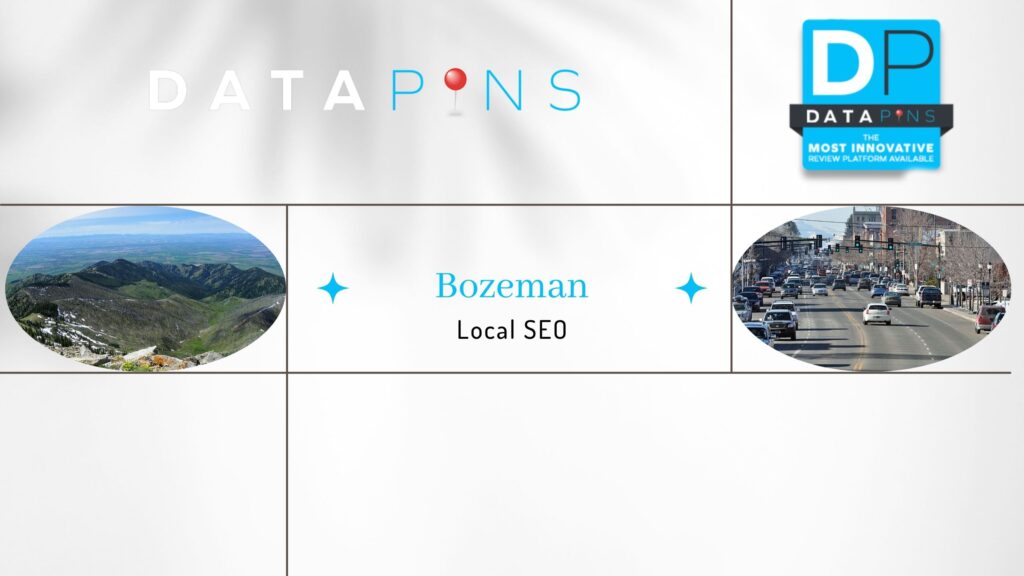 SEO Services in Bozeman, Montana
Bozeman SEO services from DataPins include web design, content marketing, on-page SEO, off-page SEO, and Local SEO. In addition, of course, each plan comes with DataPins, the industry's #1 reputation management tool. Learn more about our SEO service offerings below.
Website Design
Get the business website you have always wanted and one that is optimized to rank higher. Our complete design team can create a custom site for you with your company's logo, colors, and pictures of you and your team. In addition, we optimize each page with CTA's and keyword strategies to make your pages more visible to interested parties.
Content Marketing
It's not enough to have a fully optimized website; you have to update it regularly with fresh, engaging, and valuable content. As you can imagine, keeping up with the demand for new data is a full-time job. And make no mistake, fresh content is undoubtedly a ranking factor.
So again, we will put our team behind you to generate 100% original blog content that will help you rank higher.
Local SEO
We craft our SEO services around local optimization. So if you run a business in Bozeman and want to stand out in the local market, that's our expertise. From optimizing your Google Business Profile listing to increasing Google Maps visibility, we have the experience and know-how to get your business in front of the eyes of more interested consumers.
On-Page SEO
SEO fundamentals remain essential to high rankings in Bozeman, Montana. Editing title tags, inserting keywords, and refining content are keys to ranking for the most keywords. The DataPins SEO team ensures each page is optimized correctly to appear on Google search results.
Off-Page SEO
Link building is one of the most challenging aspects of SEO – especially if you run a small business. But with our help, you will have a dedicated team to acquire off-site citations for your business, including NAP citations, local directory citations, and much more. We work to spread your contact information to as many relevant websites as possible.
The Bozeman SEO Process in 2023
The other side of our service is the innovative and unique tools we have developed to help you stand out in your local market. For example, the DataPins tool is automated, utilizes assets you have already built or acquired, and leverages them to gain more leads for your business.
Keyword Research
Ranking online requires in-depth keyword research involving user intent, search volume, and content mapping. The DataPins SEO team identifies the highest opportunity keywords in your service areas and crafts content to target these terms and phrases. Most importantly, our team divides keywords by user intent, so we can properly speak to each consumer.
Link Building
Acquiring local business website backlinks can be challenging, but DataPins helps you achieve your goals. The best way to get links is by creating content assets in the form of long-form, informational intent articles. These pieces of content typically attract more backlinks. As a result, we create this content for your website and promote it online.
Geotagging
DataPins allows you to "check-in" and automatically tag your location via geo-coordinates. Once you tag your location, the tool automatically generates geo-coordinates for local SEO content. As a result, customers throughout your various service areas will see proof of your work.
Reputation Management
Reviews are crucial for Local SEO, and DataPins helps manage your reputation. The tool sends automated review requests to customers through SMS and email reminders. Furthermore, the DataPins review slider showcases verified customer reviews directly on your website homepage.
In addition, the DataPins tool automatically turns your reviews into schema markup, making your content more visible to web crawlers.
Google My Business Optimization
Your most crucial citation is your Google Business Profile or GMB listing. This profile ranks within the Google Map 3-Pack for relevant searches and converts new customers on the spot. As a result, we helo optimize your listing with updated photos, business information, and more. In addition, attaching your website URL to your listing helps boost its authority.
Inquire About Our SEO Service