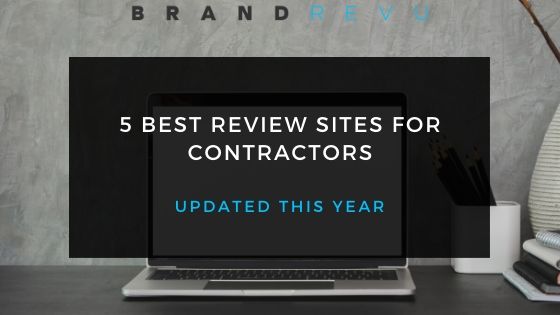 What are the best review sites for contractors? Having an online presence is essential for doing business in this decade. These days, your business has to be listed on as many pertinent social media network sites and review sites as possible because as we all know by now, the internet is the new source of social proof. People turn to online reviews more and more as opposed to word of mouth suggestions. In fact, according to Inc., approximately 84% of consumers trust online reviews as much as suggestions made to them by their friends and family. So which review sites are best? Let's examine:
1) Google My Business
Google My Business is another topic we have written extensively on because bottom line; it is an extremely relevant review site right now. According to a Bright Local Study, 64% of consumers have used Google My Business to look up and research businesses near them. And that number is continuing to rise in 2020. Google My Business reviews are also extremely important for contractors because they are often one of the first things that people see when they do a local search for contractors. If you live in Mesa, AZ, and look up "contractors in Mesa, AZ" you will more than likely see a list of local contractors along with a Google star rating and some customer reviews.
2) Bing Places for Business
Thought Bing was dead? We don't blame you. With just a 2.44% market share of the entire search engine market, it would appear that they are on life support. But if you take a look at the entire pool of search engines that are still operating in 2020, you will see that Bing, with its seemingly paltry 2.44% share of all searches is actually second on the list behind only Google. Google dominates the search engine market with an insurmountable 92.54% share of all searches. No one is touching that. But Bing still has a sizeable piece of the pie. Bing Places for Business then becomes a relevant platform for customer reviews. After all, why not have the top 2 search engines in the world covered?
3) Angie's List
According to Angie's List's own records, more than 6 million people use Angie's List to read reviews and find reliable local contractors on a regular basis. There are a few things that make Angie's List one of the best review sites for contractors still in 2020. The first thing is that they specialize in home and commercial improvement services. They began with plumbers, carpenters, roofers, and the like and have expanded to include medical services and more. But they still have a natural leaning towards contractors. That is what they are known for and that is what most people who use Angie's List go to find. The second great thing about Angie's List for contractors is that you don't have to be a member to leave a review. Some people don't leave reviews because the sign-up process is too time-consuming or difficult. But with Angie's List, you don't have to sign up to leave a review which means, more customer reviews. Lastly, Angie's List verifies their reviews so you don't have to worry about getting a bad review from someone who you have never even worked for.
4) HomeAdvisor
HomeAdvisor is another review website that made our list because it was specifically built for the home improvement service industry. It was founded way back in 1998 under the name ServiceMagic. But since then, it has garnered more than 25 million users across the nation, undergone a name changed and was actually acquired by Angie's List. HomeAdvisor offers contractors a platform on which they can advertise their services to local customers but more importantly; provides a review platform for consumers. HomeAdvisor is a nationally recognized website specifically for home improvement projects so it is a must for contractors in 2020.
5) Yelp
Yelp makes our list because of the nature of the reviews that are typically left on the site. If you are a contractor that takes pride in your work, Yelp will be your best friend. That's because Yelp users are encouraged to leave lengthy and detailed messages about their experiences. So if you do a great job patching someone's drywall or painting the exterior of their house, they are likely to leave an in-depth review that will really help someone else understand why you are good at what you do. It's like free advertising. But keep in mind, if you do shoddy work, a customer is also highly likely to leave a detailed Yelp review of all the negative aspects of your service. And Yelp is massively popular. According to Review Trackers, Yelp users generate more than 171 million reviews every year. On top of that, Yelp gets over 178 million visitors to its site every month. The community is robust and the reviews can be a huge boon to your contractor business.
The DataPins Solution
Reviews are massively important in 2020. Are you getting enough reviews? Are the reviews you do have working to generate more reviews and grow your business? Having trouble managing all your reviews? Here at DataPins, we can help you overcome these challenges with our innovative review software that helps you get the most from your reviews, get more reviews, and makes it easy to manage reviews across all platforms.