DataPins offers Altamonte Springs Local SEO Services at an affordable monthly price. With DataPins, you can rank your website and Google Business Profile in Altamonte Springs, FL, and nearby cities and towns. In addition, you can showcase social proof of your jobs in local areas.
SEO Services in Altamonte Springs
DataPins is a top-rated SEO company in Altamonte Springs. Our services are unique in that we offer a built-in Local SEO tool and plugin called DataPins. Aside from DataPins, we also provide custom web design, on-page SEO, Local SEO, and off-page SEO services.
Custom Web Design
DataPins designs a custom website compatible with the DataPins plugin. Our design team integrates your brand, logo, and unique photos onto your homepage to increase brand trust and conversion rates. In addition, we insert urgent calls to action across your website pages. Customers can also see your reviews from Google and Facebook directly on your website.
On-Page SEO
DataPins provides on-page SEO with written content, keyword placement, and DataPins captions. DataPins users can enhance their on-page SEO with each job by providing custom photos and captions for your job type. DataPns then auto-publishes the pin to the corresponding web page for SEO. Our SEO team also writes content for your service and city pages.
Local SEO
The DataPins tool automates much of the Local SEO process by inserting schema markup of your geo-coordinates with each completed pin. The tool also automates review requests to increase reviews on Google, Facebook, and directly on your website. Aside from everything the tool achieves, our team also ensures Google Business Profile optimization.
Off-Page SEO
Our SEO team ensures your company gets citations from the top directories to build link equity for your local website. In addition, our tool helps manage your off-site reputation by generating reviews for Google and Facebook. Our SEO team also helps build your brand externally.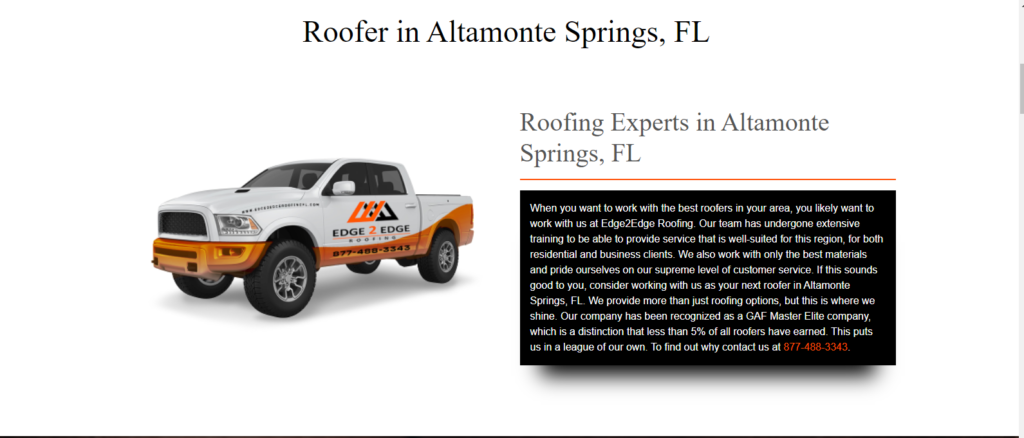 How Altamonte Springs SEO Works in 2023
As an SEO company in Altamonte Springs, the process works great with our DataPins tool. Our software tool enhances our SEO services, including web design, on-page SEO, Local SEO, and off-page SEO. Let's take a closer look at the process of these four SEO categories.
Keyword Research
On-Page and off-page SEO depend on solid keyword research. As a local business, you must know which keywords you are targeting. These keywords determine your service pages, city pages, blog posts, and link outreach strategies. At DataPins, we look for local keywords like:
altamonte springs roof repair
ac repair altamonte springs
plumber altamonte springs
altamonte springs pest control
Your target keywords depend, of course, on your specific industry. A roofing company will have different keyword targets than a plumber or HVAC contractor. Regardless, the DataPins tool works the same way and helps rank your keywords on Google organic search and local search.
Link Building
Ranking well on Google requires backlinks to your website. But, of course, Google has relatively strict guidelines for building links. For example, you can't pay other websites to link to your content or participate in link schemes that manipulate the ranking algorithm.
It would help if you targeted local directories like Seminole County Chamber. These local links distribute credibility and regional signals back to your website. You might also reach out to other local businesses with whom you already have a prior relationship.
Content Writing
Content is the key to on-page SEO, off-page SEO, and link building. Your website is your #1 SEO asset, and its value is largely based on its content. The best websites have well-written service pages that target specific keywords. They also publish blog posts that generate traffic and links.
Service pages will target buyer intent keywords, and the content will describe your services and encourage readers to take action. Conversely, your blog posts will target informational intent keywords and will inform the reader. Blog posts are not for conversion but rather for earning links.
Google Business Profile Optimization
For local searches like residential painter in altamonte springs, Google shows something called the Local 3-Pack. This results pack appears above standard organic results and features three relevant Google Business Profiles based on the user's query.
To rank within the Local 3-Pack, you need an optimized Google Business Profile. Your GBP, formerly known as Google My Business, is separate from your website, though the two entities influence one another. For example, inserting your website URL on your GBP helps it rank higher.
Aside from inserting your website URL, you should also add business information, answer FAQs and upload unique photos. Of course, you want to generate favorable Google reviews and maintain a rating over 4.5. Also, remember to add Google Posts on occasion to keep your profile updated.
Learn More About SEO Services